ARTICLE POSTED BY: NICHOL NARANJO OF NICHOLNARANJO.COM.
Nichol is the voice behind Nichol Naranjo, the blog shares tips on styling homes, entertaining, fashion, and simplest pleasures in life. For a daily dose of stunning fashion and home decor tips, follow her on Instagram at @nicholnaranjo.
I think it's safe to say that we can all use "easier" this Christmas season, and it's probably safe to say that we all crave those sweet intimate gatherings with our family more than ever too. My family and I just moved into our new home, and we could not be more thrilled! Even though we are currently living out of boxes, and it's only been about a week since we moved in, I really wanted to create something special for my family this Christmas season. A little beauty in the chaos. That said, I also had to use what was easily accessible, since most of our belongings are still buried deep in the garage somewhere. Ha! Along with our new house, we were also fortunate enough to purchase the belongings in it, which once belonged to Pam. Pam used to live in our now home and was our dear friend. We sure do miss her. She was the best, and she had the BEST taste! It has been so much fun styling with her beautiful treasures and it made Christmas in the dining room easier to style since I didn't have to dig out as much of our own stuff as I thought I would have to! I simply looked around and went to work! Even in the chaos of moving, one thing I always make sure to keep handy are our Weiman cleaning products, because they always do their job so beautifully and efficiently!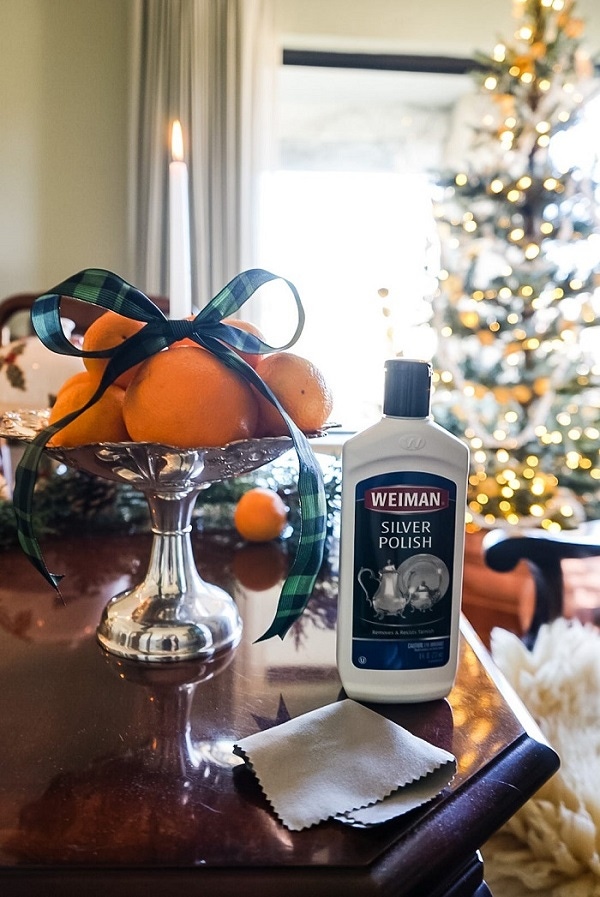 To add a little Christmas cheer and magic to our new dining room, I started with my Weiman Silver Polish and cloth. I decided to tackle shining a couple of pieces from our new silver collection and it cleaned both pieces amazingly well! Next, I simply stacked a few oranges and tangerines in my pedestal bowl and topped it off with a tartan ribbon! I love using oranges during the holiday season, plus it makes for an easy and healthy snack! I also added a faux garland on our dining table, a few more tangerines tucked throughout, candlesticks because every table should have candlelight in my opinion, and a couple of Christmas serving pieces to add extra festivity and finish it off!
Over on our buffet I used Weiman's Disinfectant Granite & Stone Daily Clean & Shine on its beautiful marble top. Again, it cleans up so easily and beautifully with this cleaner and now has the beautiful shine it deserves! My faux cake was a must on the buffet, because I have zero time to tackle baking these days, and I love the whimsy it adds! I also added a vintage-looking reindeer that I've had for years, a few more tangerines, and our antique brass coffee/drink dispenser. I love mixing metals by-the-way.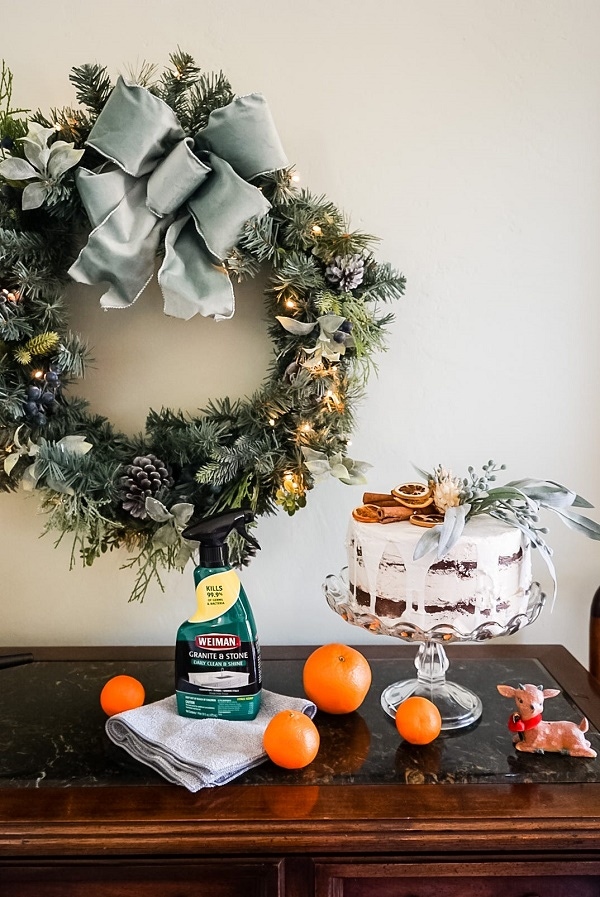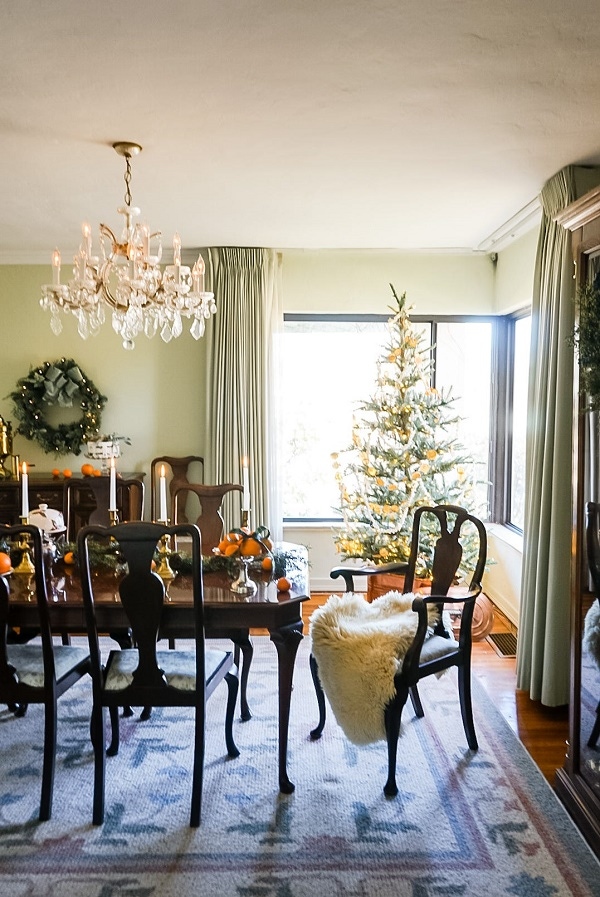 I have to tell you, I have always dreamed of having a designated dining room big enough for a full-sized Christmas tree and now I have one! So, setting up our Christmas tree was extra exciting for me. For our tree, I again kept it simple and used popcorn and orange slice garland that we made with our family last Christmas. We then plopped our tree into a copper tub we had on hand and voila! I love it! In order to get the tree into the copper tub we removed the base, set it on a brick we had on hand to add height, and used bubble wrap and cardboard to secure it in place. Did I mention we're moving, which makes for a lot of bubble wrap and cardboard!
Per usual, I'm sure I'll make tweaks in here in the days and weeks to come, and I have no doubt that I'll keep adding to the décor in here until the week of Christmas, because that's what I always do. Just ask my family. Ha ha! I do enjoy using what I already have and shopping my own home, and I plan to continue to do just that this entire Christmas season! For me, now more than ever, the goal is to not add unnecessary stress to myself, my family, or our finances. The extra bonus is that using what I already have always forces me to get extra creative, and it's then that I often create my favorite spaces and tablescapes.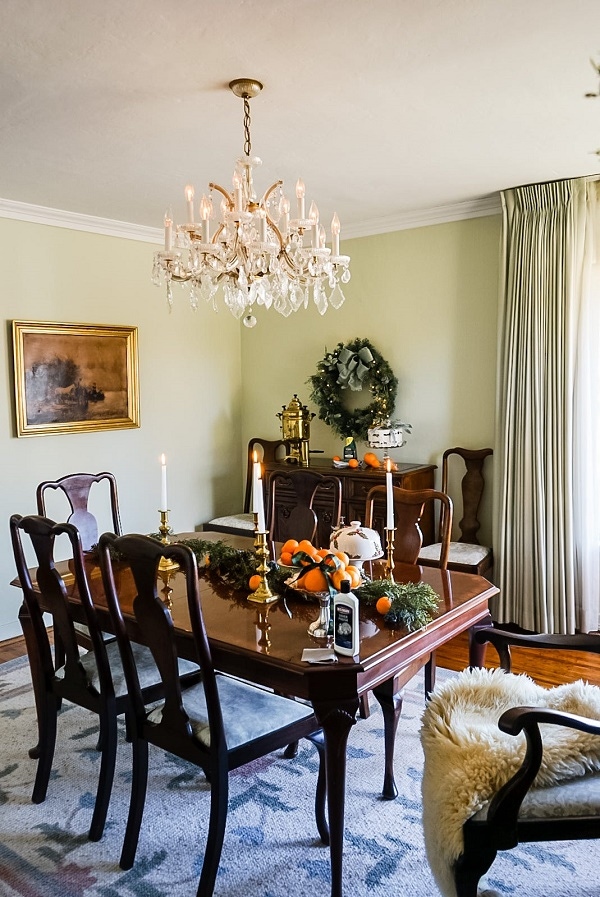 Using my Weiman Products also saves me time because they work so well, which I love. I'm all about working smarter and not harder. We could all use a bit of a break this holiday season, so why not start with the daily tackle of cleaning. It's been a trying and unpredictable year for everyone worldwide.
We all deserve to take it a bit easier this Christmas, to do and celebrate in whatever way makes us and our family happy. Making memories, carrying out traditions, gathering around the table (even if it is a smaller gathering this year), and celebrating the reason for the season are what holidays are all about for our family. For me, creating a little beauty for my precious family also makes me beyond happy, it always has, but this year it makes me extra happy. Thankfully, they appreciate and note my efforts as well.
They're pretty amazing, even if I'm a bit biased. I think the important thing for all of us is simply to give thanks for what we do have, to soak it in all of the Christmas magic, and be extra grateful that we get to see another magical Christmas season.