This holiday season Weiman is gifting you with expert decorating ideas, must have holiday recipes, last minute cleaning tips and much more. We teamed up some outstanding bloggers and holiday hosting experts including
Taryn Whiteaker from TarynWhiteaker.com
Jenna Shaughnessy from JennaKateAtHome.com
Keki Cannon from HomeWithKeki.com
Nichol Naranjo from NicholNaranjo.com
Amanda Vernaci from ComeStayAWhile.com

They've walked the walk of holiday kitchen prep, now they're sharing their top tips with you.
What's the best advice you would give someone who's hosting the holidays for the first time?

Whiteaker -The thought of having a house full of people can be either exciting or down right terrifying. I get it! But over the years I have learned a few tips for cutting down the stress that help me enjoy the evening with friends and family. Prep as much as you can ahead of time! That means set the table a few days before, do all the food prep in the days leading up and lay out all the serving pieces you hope to use to see how they will fit on either the table or buffet.
Shaughnessy - The key really is to get prepared in the weeks and days before so that you're not overwhelmed come the big day. Decide on a menu, making sure that multiple items on the menu can be prepared ahead of time. For instance, I'll make the pastry dough for my pie several days in advance and keep it in the fridge. Then all I have to do is whip up the filling the day before and bake it. I'll even make stuffing the day before and just heat it up for serving! Being prepared means not only will everything get finished on time but also that you'll be able to enjoy the day and mingle with your guests.
Naranjo - My best advice is to plan well in advance, get organized, and don't hesitate to ask for help. We have a huge Christmas Eve party at our house every year. Write everything down, even down to making sure candles are lit prior to event. In the end, sometimes things do fall through the cracks or don't get completed and that's okay. Its most important thing is that everyone feels valued and loved inside your home (both the guests and the family that helped put it all together.) So, let go of the things you simply cant get done.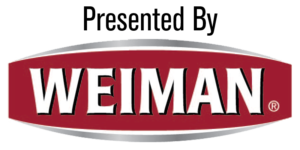 What is your go-to recipe that can be prepared beforehand?
Whiteaker - There are so many recipes that can be prepared ahead of time, or at least 90%. Create a meat and cheese platter ahead of time, wrap it up and place it in the fridge until guests arrive. You can even prepare your salads too, just leave off the dressing until people arrive and get those casseroles ready and throw them in the oven an hour before dinner time. One of our traditional family recipes is a delicious sweet potato casserole. It's something I have had at every single Thanksgiving and I continue to make it for my own family. It's filled with yams, marshmallows, brown sugar and lots of butter!
Shaughnessy - Desserts are a great item to prepare beforehand. Every Thanksgiving and Christmas I prepare a platter of cookies including gingersnaps, soft gingerbread and my personal favorite, cranberry orange shortbread cookies. It wouldn't be the holidays in my house without them!
Naranjo - Pinwheels it's just a bite-size appetizer that includes tortillas, cream cheese and green chili. Besides our famous pinwheels, my family always requests Posole every year during the holidays! It's a traditional New Mexican food at the holidays, and again, an easy one that feeds the masses.
How do you decorate for the holidays on a budget? What decorations are worth investing in?
Whiteaker - If you could only add a few small pieces to your holiday decor I would focus on faux greenery and ornaments. Once you invest in real-like faux greenery you can bring it out every year. That includes a Christmas tree and a few pieces of garland, maybe even a wreath! The simple sight of Christmas greens throughout the home will instantly make it feel like the holidays.
Shaughnessy - We don't buy a real tree, instead opting for a high-quality artificial one. It was a bit of an investment upfront, but we've had the same tree for 6 years now, so it has worked out much cheaper than buying a real tree every year! I also keep an eye on the sales after the holidays and buy decorations when they are steeply reduced.
Cannon - Use what you have. I use items from around the house and even outside. I have never bought a pinecone. I collect pine cones on walks in the Fall. One year I even dipped them in white and gold paint. Paint is your best friend. Memorable ornaments I find to be worth investing in. Every year I get each of my kids an ornament that represents something about them for that year plus one family ornament.
Naranjo - Decorating on a budget is my specialty and I find foraging is one of my best resources! Mother Nature has so much beauty to offer. Think pinecones, evergreens, berries, branches, etc. I will even ask my local hardware stores/tree farms for their leftover clippings from their Christmas trees and use them to deck my own halls!
Vernaci - I am a huge advocate for shopping your home before heading out to a store to look for new décor. Chances are, you have things that you purchased from a previous year that you have forgotten about that will complete your space perfectly!
How do you tackle cleaning your kitchen for the holidays?
Whiteaker - Cleaning our counters and appliances are an absolute must! With three kids, we tend to have little finger prints of yogurt and grease appear on our fridge and style sink. I love using the Weiman Stainless Steel Spray with a Weiman Microfiber Cloth. It takes only a few minutes and our appliances feel brand new again. I have also been using their Weiman Quartz Cleaner on our countertops and can really see a shine coming through with them!
Shaughnessy - I do a deep clean before Thanksgiving every year, paying particular attention to my fridge and oven. The oven used to be the biggest pain to clean but now that I use Weiman Oven & Grill Cleaner, it's so easy to get it looking brand new inside. A quick wipe with the Weiman Stainless Steel Wipes make sure it's smudge free on the outside, too.
Cannon - Every year I host Christmas Eve and I am a stickler for keeping my kitchen in perfect condition during the process. If they open the refrigerator to get something to drink it would be a turn off if the interior had spills, gunk, or the exterior was all sticky to touch. I always wipe and clean up spills as I go along. When I finish preparing a dish, I clean my space before moving forward. Always keeping my Weiman Microfiber Cloth and the necessary Weiman Products under my kitchen sink for quick and easy access.
Naranjo - I like to start from the top and work my way to the bottom when it comes to cleaning my kitchen! I will literally start cleaning from top to bottom and tackling each thing on the way down: shelves, cabinets, pantry, hardware, floors, etc! I like to end with a final shining of my stainless steel appliances using Weiman Stainless Steel Spray helps them to really shine! It's my go-to this season!
Vernaci - One of my favorite new habits that we have started doing around the house is something I call #ClockedCleaning. You set a timer for 10 minutes and clean as much as you can get done in that time. You will be shocked at how much you can actually complete in as little as 10 minutes. By doing this daily, you are able to maintain the mess around the house instead of feeling overwhelmed by all the tasks at hand.
How do you get your kids involved in kitchen prep?
Whiteaker - We are really fortunate that our kids love to help out in the kitchen. Small tasks include helping pour all the ingredients into the mixer or having them arrange the fruit platter.
Cannon - My daughter loves to help in the kitchen. From snapping green beans to baking holiday cookies. I love having her help even though it can get messier, her little fingers touch everything.
Naranjo - My daughters love to help prepare one of our classic Christmas treats - pinwheels. I think it has become a simple tradition they enjoy tackling together.
What's the kitchen prep task you leave until the last possible moment?
Shaughnessy - Not on purpose – but I always leave figuring out serve ware and flatware until the last second and then I'm in a panic that I don't have enough or that they're not all clean!
Cannon - The apps / cheese for charcuterie platters. I usually complete this after I have showered, gotten dressed and ready for guest to arrive.
Naranjo - The last task I leave is wiping down the counters and sink one last time! I give them a good scrubbing prior but like to give them one last wipe down before guests arrive.
Vernaci- Cleaning up the food prep area while the food is cooking will make things much easier for you when it comes to the post-meal cleanup. Trying to stay on top of the mess is key to having a successful holiday event.
Does your husband help or hurt the kitchen prep process?
Whiteaker - Want to know a little secret? My husband is actually the cook in the family. We make a really good team. He is the master chef and always looking up new gourmet recipes to try and I do all the baking. He is also the one who follows recipes to an exact science, and I am the creative, free-spirited one who wants to throw in a pinch of this and a pinch of that… needless to say, mine don't always turn out.
Shaughnessy - My husband is actually a great helper in the kitchen provided he's given clear instructions. I can honestly say that when we host the holidays, he is the best kitchen helper since he doesn't mind being bossed around by me!
Cannon - Oh, I wouldn't say he hurts it but he knows to stay out. I need my space and I actually enjoy being in the kitchen all day getting everything ready. It is my therapy.
Naranjo - My husband Dominic is amazing when it comes to helping in the kitchen process! He's always ready and willing to help in any way. I'm thankful he is, because for me, it's so much more fun to prepare for party when you have help.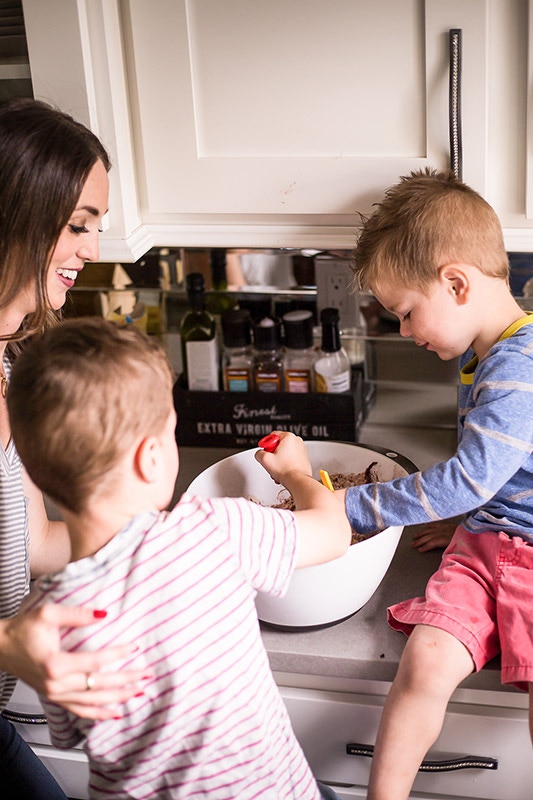 Vernaci - Throughout our marriage, we have sort of assumed certain roles around the kitchen. I do the cooking and tidying, and he handles the dishes and the trash. I do most of the cooking and prep myself but having him there to help clean up beforehand and the aftermath is very helpful!

We hope that these make the holiday season more joyous. Whether, it is implementing their idea of prepping recipes in advance, setting up the tablescape days before, or shopping in your home for holiday decorations. We hope you can implement some of their advice this holiday season. Wishing you happy holidays from our Weiman family.
Here's our cast of all-star bloggers and holiday hosting experts:
Taryn Whitaker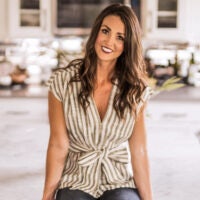 Taryn is the voice of style behind Taryn Whiteake where she shares unique interior design concepts, entertaining spreads, simple DIY tutorials, and every day fashion trends.
Jenna Shaughnessy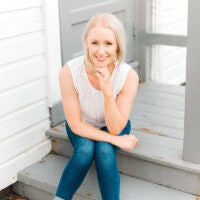 Jenna Shaughnessy is the voice behind Jenna Kate at Home, the blog that shares inspired home decor ideas, DIY projects and recipes to help make your house feel more like a home.
Keki Cannon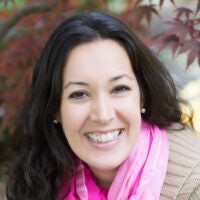 Keki Cannon is a Chicago based interior stylist and is the voice behind Home with Keki, the blog shares home décor ideas, lifestyle tips and home staging advice.
Nichol Naranjo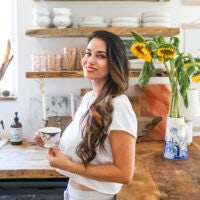 Nichol is the voice behind Nichol Naranjo, the blog shares tips on styling homes, entertaining, fashion, and simplest pleasures in life.
Amanda Vernaci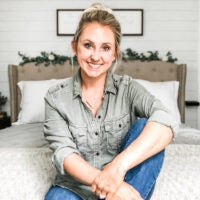 Amanda Vernaci is the creator behind Come Stay Awhile, the blog shares budget-friendly home hacks, DIY's, recipes, and much more.