Karen Snyder is the founder of Sanctuary Home Decor, where she chronicles everything from home décor, her family adventures, entertaining, and gardening tricks. For a daily dose of floral designs and family fun, follow her on Instagram at @sanctuaryhomedecor. 
As the beauty of fall approaches now is a perfect time to refresh your living spaces and add a few decorative elements to herald in the new season. One of my favorite places to add seasonal décor is in the kitchen, because it truly is the hub of our home. After a thorough clean up I add a few simple decorations that transform my kitchen into a warm and inviting space in just minutes. Today I'm sharing some simple tips for how to get your kitchen sparkling clean and add some fun and easy fall décor.
My decorating routine always begins with a thorough cleaning, and I can rely on Weiman Products to make sure every space is fresh and sparkling.
When I add seasonal décor to my kitchen, I always clear my countertops completely and clean them with Weiman Granite and Stone Disinfecting Spray. This allows me to start with a fresh palette and to make sure any dirt or grime that may have collected in corners has been removed. I spray directly on my counter and backsplash and wipe down with a damp cloth.
When I decorate at the beginning of a new season, I like to add just a few subtle elements. As I replace essentials on my countertops, I add some seasonal decorative pieces such as wheat bundles and neutral-colored pumpkins.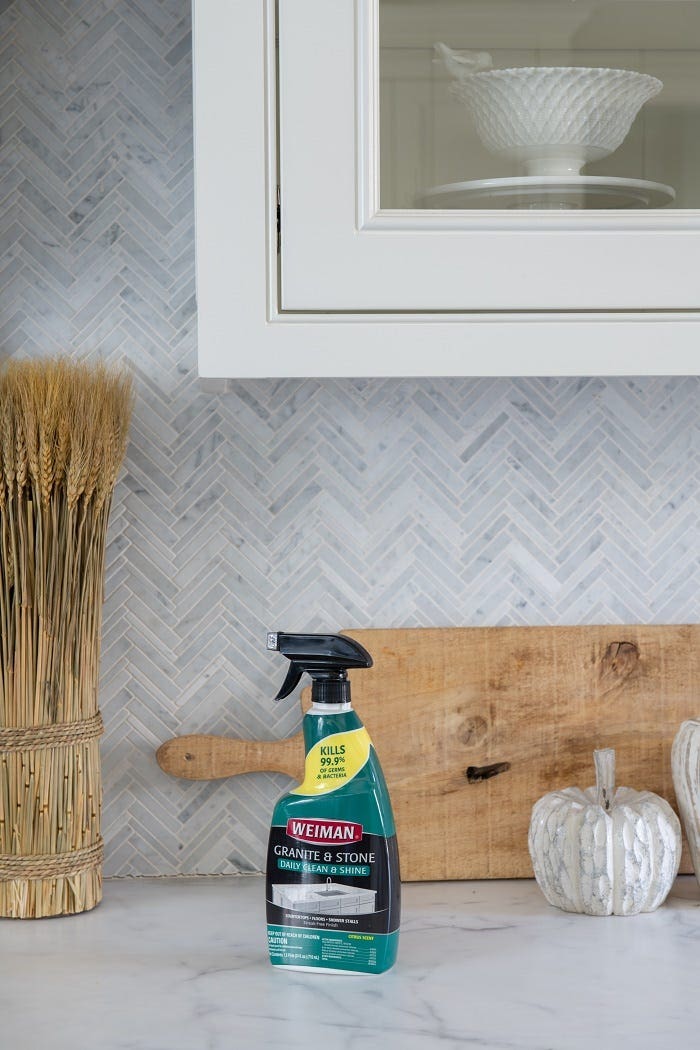 Having a shiny, clean range used to be hard work, until I discovered Weiman Stainless Steel Cleaner and Polish. Coupled with the Weiman Microfiber Cloth, cleaning my range has never been easier! Just a quick wipe down gives me a streak-free shine AND helps to repel fingerprints. I also love to decorate the area around my range for fall with wheat bundles and a wreath on the range hood. This year I chose a pretty shola wood wreath to coordinate with the soft color of the wheat and the white wood pumpkins.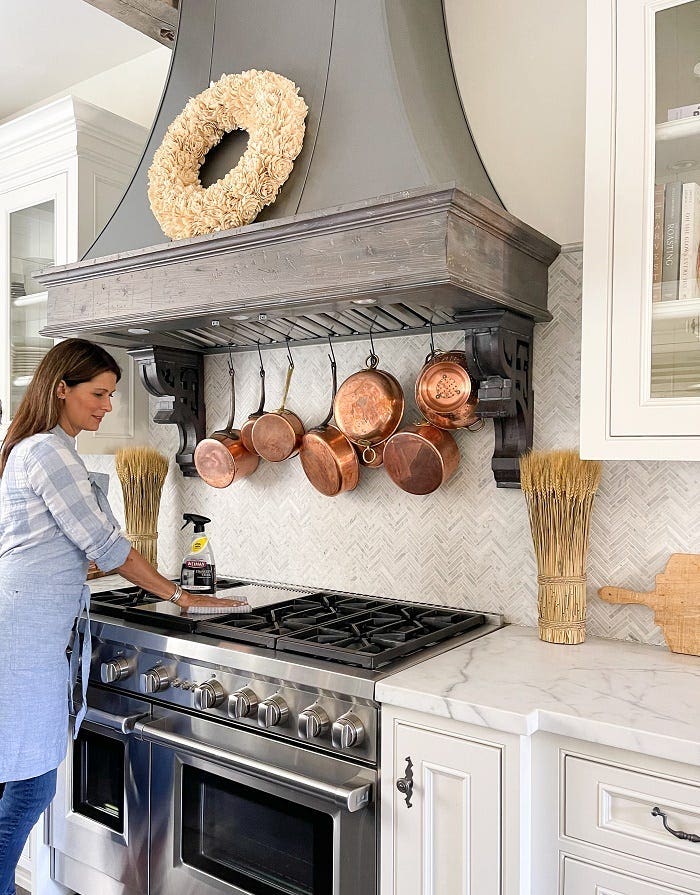 One of the other areas I love to use for seasonal décor is our kitchen center island. I often have a floral arrangement in our kitchen, but for fall, a vase filled with seeded eucalyptus makes a beautiful statement and is also incredibly fragrant. As the season progresses, I will be foraging in our yard for fall branches to add to my kitchen.
The barstools at our kitchen island get a lot of use, so keeping the leather clean, conditioned and protected is vital. I absolutely love how easy that is with Weiman Leather Conditioning Wipes. I simply pull out a wipe and give the barstools a quick rub down and any grime or mess is swept away. They also keep the leather looking fresh and conditioned long after I clean which makes my weekly cleaning routine much easier!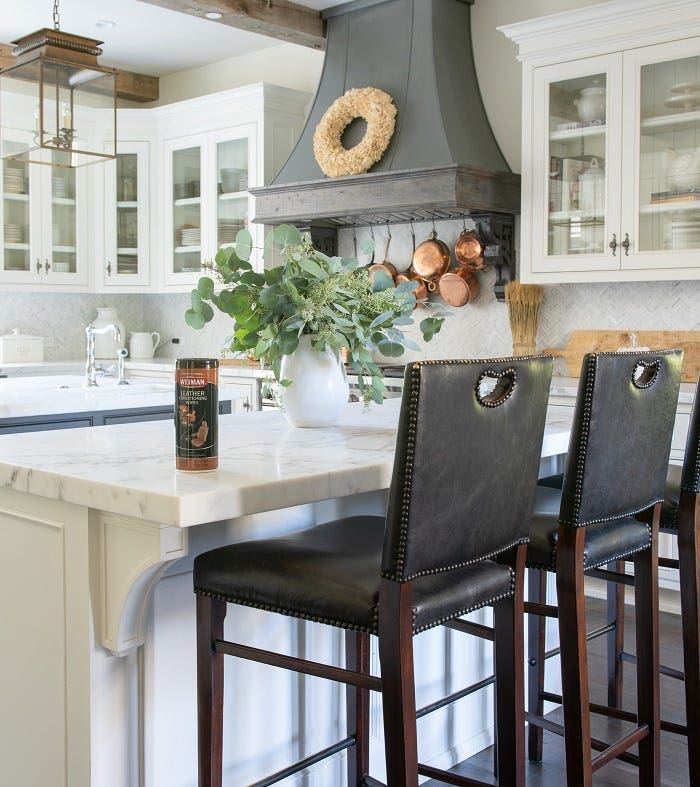 Of course, our kitchen floors are always in need of a good cleaning, so I truly appreciate how easily I can get that chore done with Weiman Hardwood Cleaner. Just squirt and mop and my floors are restored to a like-new finish.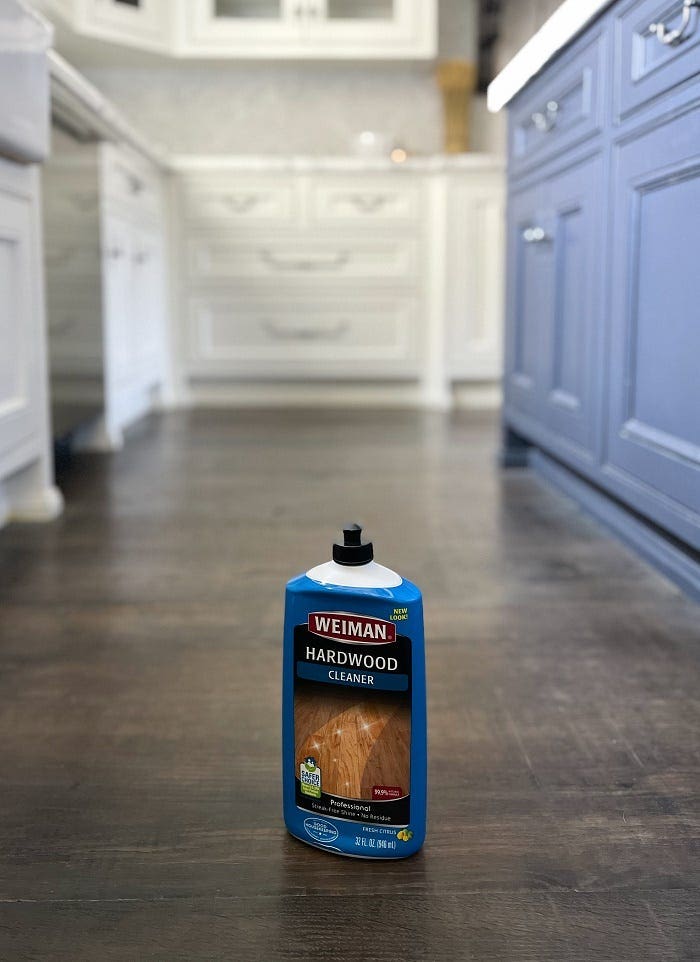 One final task I like to complete in fall is to polish my often-used silver serving items in anticipation of the upcoming entertaining we will be doing. There is no easier or more effective way to accomplish that job than with Weiman Silver Wipes. In just minutes I can remove any tarnish from my favorite silver pitchers and trays. The best part is that these wipes make cleaning handles and hard to reach areas simple and easy.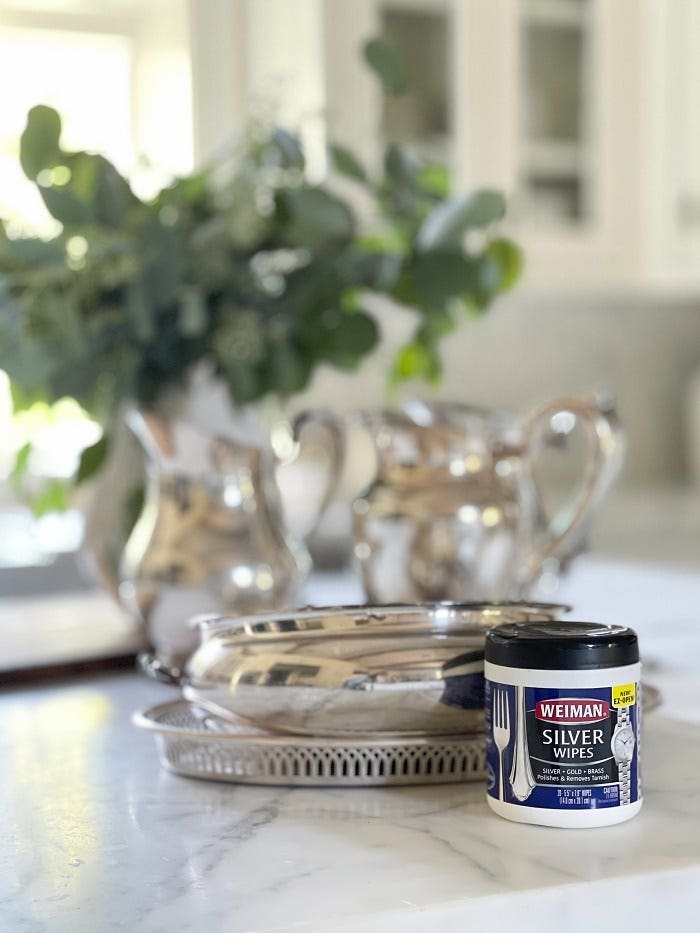 As we head into a new season, I am so thankful for the entire line of Weiman Products, because they allow me to easily clean my home, so I can focus on creating a warm and inviting space for our family and friends!