Kruti Shah is the founder of CultivateWithKruti.com, where she chronicles her life as a health and wellness expert. For a daily dose of health, plant-based recipes, and much more, follow her on Instagram at @CultivateWithKruti.
Now that I'm back in my mother's kitchen, I've had to upgrade my cleaning routine to meet her standards, and I'm so glad I stumbled upon Weiman cleaning products to help keep my mother's kitchen sparkly clean! I've been known to make a mess in the kitchen, but Weiman products beautify, and protect each surface. Let's just say after developing the following fall-inspired recipes, my mother was not happy, but thanks to Weiman, my mother was joyful after the deep cleaning I did! The surfaces looked extra shiny, and streak-free!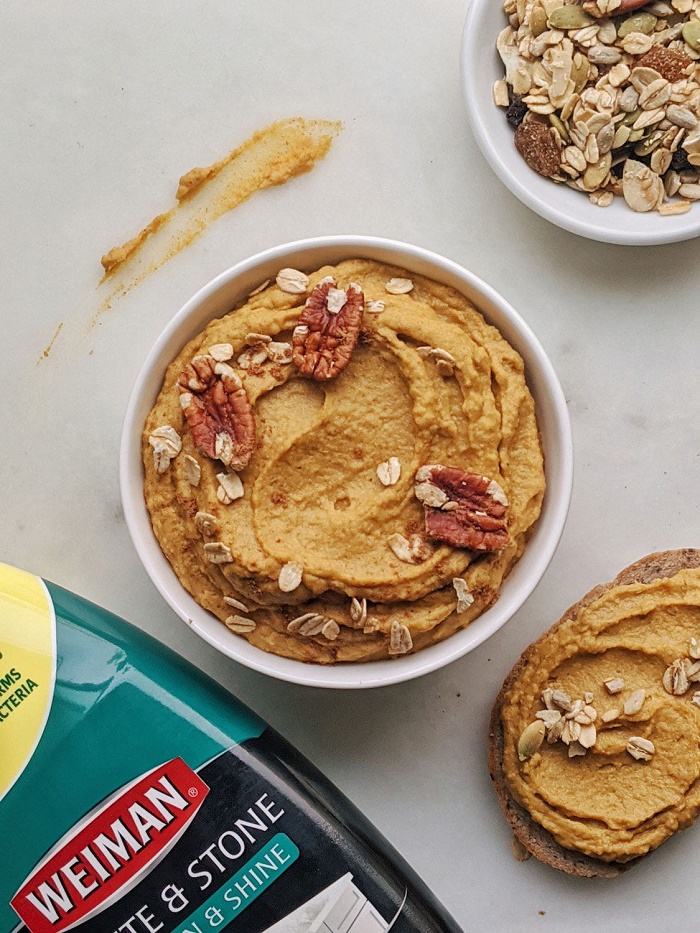 My top tip for keeping the kitchen clean is to spray each surface, wait a few minutes, then wipe down! This ensures a clean and disinfected surface to satisfy the pickiest cleaners. Now that I have these cleaning products on hand, I don't fear making a mess in the kitchen, especially with the following recipes.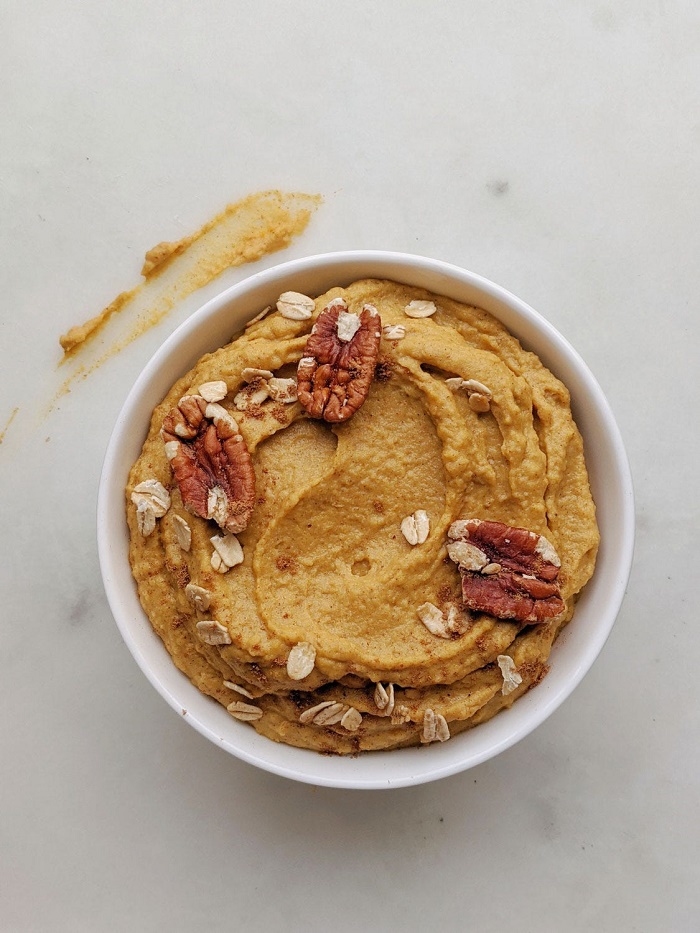 Peanut Butter Pumpkin Pie Hummus Recipe
Ingredients:
1 15 ounce can chickpeas
½ cup pumpkin puree
¼ cup maple syrup
2 teaspoons pumpkin pie spice
¼ cup natural peanut butter
Pinch of sea salt

Directions: Combine each ingredient into a food processor or high-speed blender. Blend until thick, and creamy. Remove from blender, and enjoy with crackers, pretzels, or apple slices.
Vegan Pumpkin Pie Spiced Coffee Cake Recipe
Dry Ingredients:
1 cup oatmeal flour
1 cup almond flour
1 ½ teaspoon baking powder
½ teaspoon baking soda
1 Tbs pumpkin pie spice
1/3 cup coconut sugar
Wet Ingredients:
1 cup pumpkin puree
¼ cup of coconut oil
2 Tbs maple syrup
2 flax eggs (2 Tbs ground flaxseed, 6 Tbs water)
1 teaspoon vanilla extract
Crumble Topping:
¼ cup rolled oatmeal
2 Tbs oatmeal flour
2 Tbs coconut sugar
2 Tbs coconut oil
1 teaspoon cinnamon
Directions: Combine together, until crumbly. Preheat oven to 350. In a small bowl, mix ground flaxseed and water together. Set aside. Combine dry ingredients into a large bowl. In a separate bowl, combine wet ingredients, including flax eggs. Combine dry ingredients with wet ingredients. Pour mixture into a greased 8x8 baking pan. Add crumble topping, and bake for 25-30 minutes. Allow coffee cake to cool before cutting into pieces.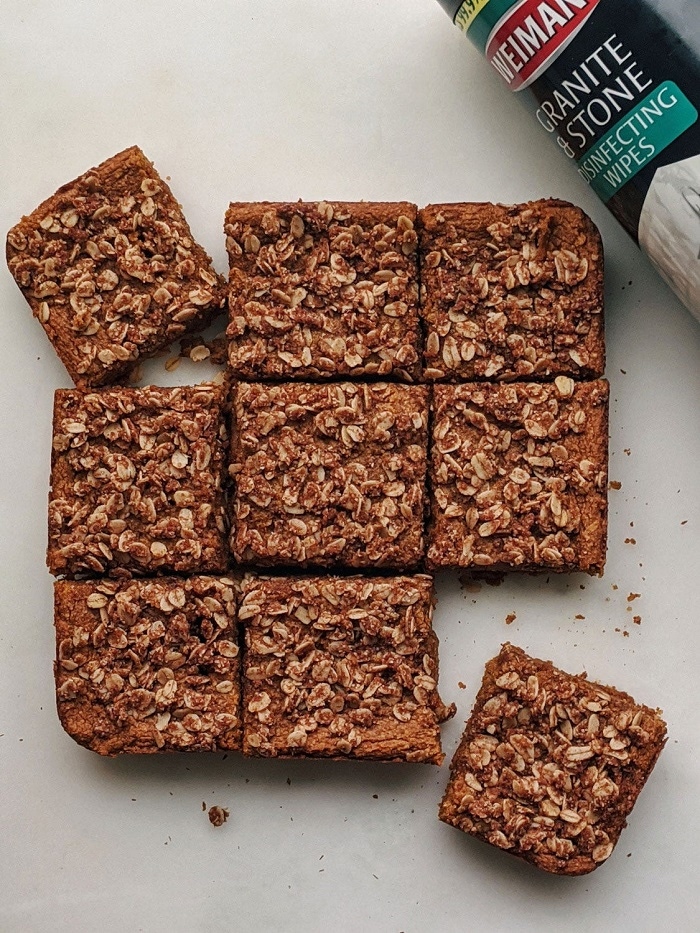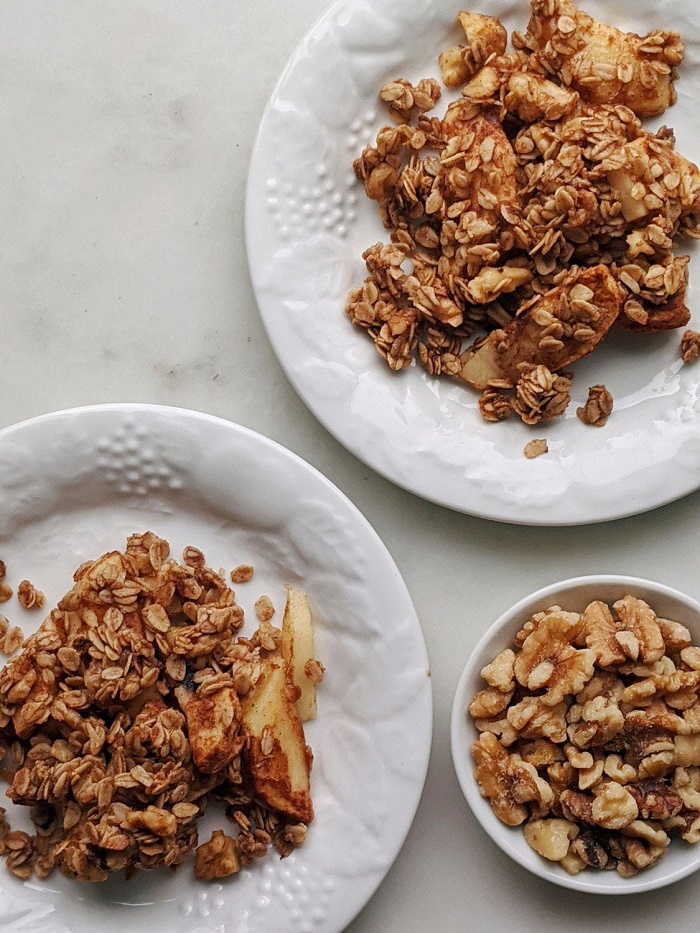 Apple Pie Crisp Recipe
Filling Ingredients:
2 medium apples, peeled and sliced
2 teaspoons apple pie spice (or 1 teaspoon cinnamon, ½ teaspoon nutmeg, ½ teaspoon ground ginger powder)
1 Tbs arrowroot powder or cornstarch
¼ cup of coconut sugar
1 Tbs lemon juice
Topping Ingredients:
2/3 cup rolled oatmeal
2 Tbs almond flour or all-purpose flour
2 Tbs coconut oil
2 Tbs maple syrup
1 teaspoon cinnamon
½ teaspoon vanilla
Pinch of sea salt
¼ cup chopped walnuts

Directions: Preheat oven to 350. Grease a small baking dish with coconut oil. In a large bowl, combine all filling ingredients. Add mixture into baking dish. In a separate bowl, combine crisp topping, and add mixture on top of apples. Cover with foil, bake for 10 minutes. Remove foil, and bake for additional 15 minutes.