ARTICLE POSTED BY ASHLEY ROSS OF @ASHWISDOM.
Ashley Ross is the founder of AshWisdom, a place for all things home décor. For daily adventures in motherhood, style, beauty, and home décor, follow her on Instagram at @AshWisdom.
I can't believe it. My favorite time of the year is here – Fall! That crispness in the air, the beautiful fall foliage and of course, all things pumpkin spice. It just makes me want to cozy up by the fire with a cup of coffee (pumpkin spice flavored of course). With a new season comes some new décor. I've been adding little touches of fall all around my home. Here are a few of my tips to make your home extra cozy this fall.
Tip 1: Texture. This is such an easy way to make a big difference. Make sure you always consider texture when cozying up your space for fall. Adding a chunky knit blanket to your sofa or chair is not only aesthetically pleasing, but also super cozy and functional. Adding different throw pillows with different textures is fun as well. Think faux fur, velvet, knit and leather.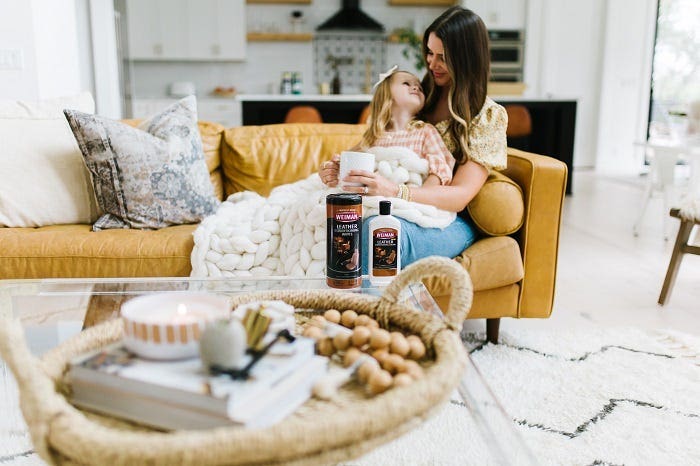 Tip 2: Scent. It's fall! Time to bring out all the fall smelling goodies. Light that new Pumpkin Spice candle. Have a backyard bonfire. Not only will your home smell amazing, but it will also make it feel so cozy. Another tip I have to make your home smell like fall is to make some stovetop potpourri.
Stovetop potpourri:
Fill a medium sized pot or small crockpot ¾ full of water and add the ingredients of your choice.
Bring to a boil for a few minutes, and then lower the heat to simmer.
Let it simmer for as long as you'd like. Be sure to watch the water level, and refill if needed.
Save the mixture in a glass jar or bowl in the refrigerator when finished. It can last you several days! Simply reheat the next day to re-scent your home.
Ingredients I use:
4 – 6 cinnamon sticks
1 tsp vanilla
Orange rind
2 tbsp whole cloves
3 – 5 bay leaves
Other ideas are nutmeg, pumpkin pie spice or apples.

Tip 3: Pumpkins. We all love to decorate our porch with pumpkins, but you can also bring them inside. Fill a tray or bowl in your kitchen with mini ones or use one large one as your table centerpiece for a subtle touch. I even love adding them to a fireplace mantle.
Tip 4: Color. Typically, when the weather starts to cool off, I like to add some warmer colors like browns, creams and mustards. Using some throw pillows or a throw blanket in these colors is an easy way to bring in some new tones. Consider your color story when decorating with your fall décor.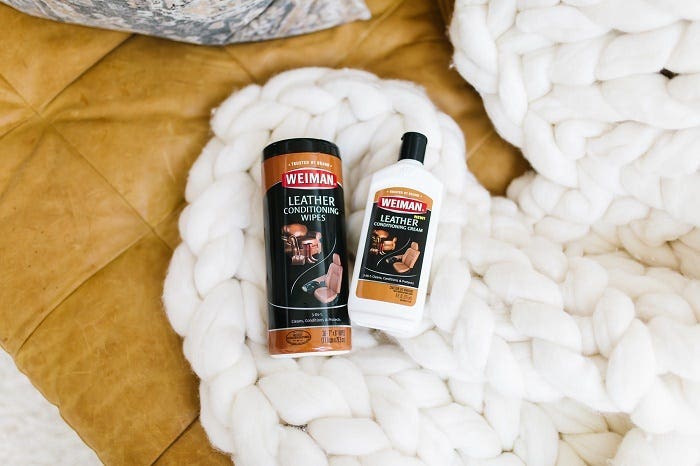 Tip 5: Outdoor area. Don't forget your front porch. Style your outdoor area with mums, ornamental kale, pumpkins and gourds. Mums and pumpkins come in such a variety of colors and add that extra fall touch to your home.
Whenever I decorate for a new season, I always want to make sure I have a clean home first. Weiman helps me clean efficiently as well as quickly so I have more time to do the fun stuff, like decorate! We have a leather sofa in our living room, and this is where the whole family gathers for movie nights by the cozy fire. And by whole family I mean our two dogs and two cats as well. I use the Weiman Leather Conditioning Cream on our sofa to keep it looking new and refreshed. The Weiman Leather 3-in-1 Conditioning Cream allows you to clean, condition and protect smooth finished leather surfaces, providing long-lasting leather restoration in just one simple step. You can use it on anything from shoes to accessories to car interiors. The Weiman Leather Conditioning Cream rejuvenates leather with moisturizers to safely remove dirt, soil & residue build up.
I also love using the Weiman Leather Wipes on our sofa. Especially after the kids touch the couch with oily-snack fingers. I love that these products restore the leather with natural oils while providing UV protection. We have very large windows in our living room and get a lot of natural light. These Weiman wipes help our leather sofa from fading.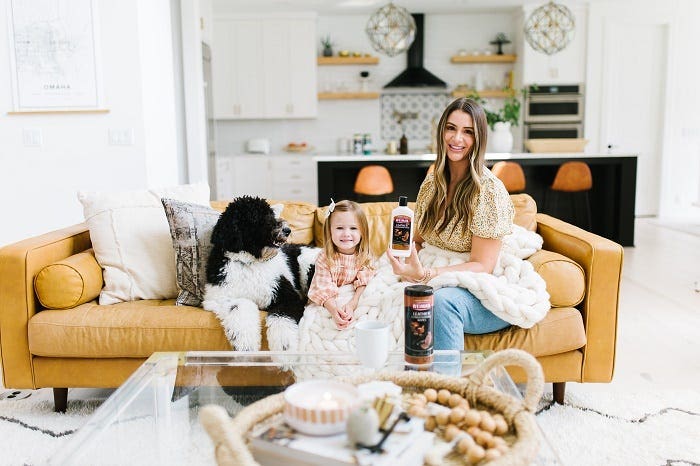 I don't know if I could go a day without my Weiman Disinfectant On-The-Go Electronic Wipes. We seem to have fingerprints on the TV everyday and these wipes clean it right off and save my sanity. And it dries quickly while leaving a clean, clear surface. I also love using these on the remote controls because it kills 99.9% of germs, bacteria and viruses. It kills common household bacteria and viruses including Coronavirus (SARS-V-CoV-2) that causes Covid-19, Salmonella, E. Coli, and Influenza A, while safely removing dirt, dust, and hair.
The kitchen is definitely one of the most used rooms in our home. Which means I am always cleaning up in there. Thankfully Weiman had made that process a little easier. One of my biggest pet peeves is seeing handprints on our stainless-steel refrigerator. Having two little kids doesn't help. My Weiman Stainless Steel Wipes are a life saver. Not only do they clean my fridge and appliances, but they are also actually designed to resist fingerprints, watermarks and grease while repelling dust and dirt. So, it keeps my kitchen shining brighter, longer.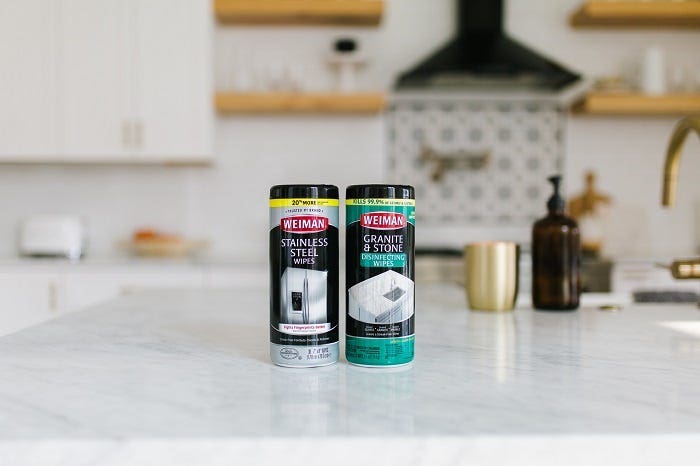 Lastly, one of my other favorite products is the Weiman Granite and Stone Disinfecting Wipes. These are the best for cleaning and disinfecting my countertops fast. They kill 99.9% of germs and bacteria in only 4 minutes, all while leaving a streak-free shine.