ARTICLE POSTED BY JEANYNE JAKUBOWSKI OF @THEBLOOMINGJAKS

Jeanyne Jakubowski is the founder of TheBloomingJaks.com, where she chronicles her family adventures, and recipes. For a daily dose of Southern Hospitality, parenting tips, and much more, follow her on Instagram at @TheBloomingJaks.
Fall is one of my favorite seasons! The crisp air, changing leaves and joyful hearts knowing Halloween and Thanksgiving are around the corner. Fall also means filling our house with the aroma of baked goods, whether that's a delicious pie or tasty cookies.
Entertaining family will look different this year, but it's still important that our kitchen looks inviting, beautiful, and clean. Weiman Disinfectant Granite & Stone Daily Clean & Shine Spray and Weiman Disinfectant Granite & Stone Wipes disinfect to keep granite and stone surfaces clean and safe. With a formula that kills 99.9% of Germs and Bacteria, it's a great product to have in the house. Weiman products go beyond simply cleaning, they beautify and protect each surface allowing your home to look it's absolute best. Today, I'm sharing my family's three favorite fall recipes. Enjoy!
Chocolate Chip Cookies
This is one of our favorite classic chocolate chip cookie recipes. It's a quick and easy recipe, great for busy families, and still tastes great.
Ingredients:
1/2 cup butter
1/2 cup granulated sugar
1/2 cup brown sugar (packed)
2 teaspoons vanilla extract
1 large egg
1 3/4 cups all-purpose flour
1/2 teaspoon baking soda
1/2 teaspoon kosher salt
1 cup semisweet chocolate chips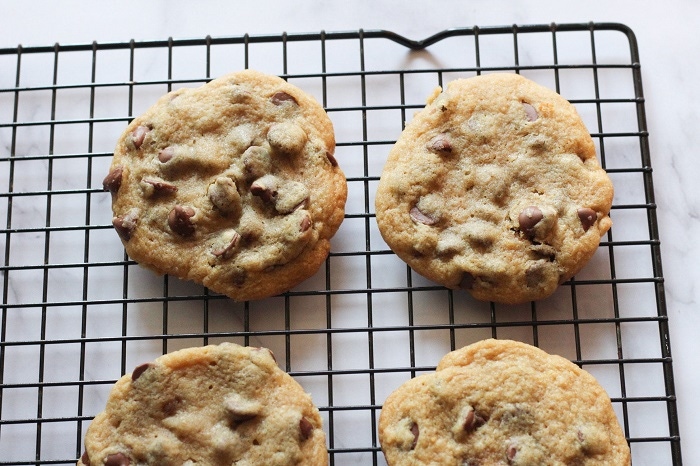 Instructions:
Preheat the oven to 350 F.
Microwave butter for 30-40 seconds. Butter should be melted, but not hot.
Stir in vanilla and egg until combined.
Add the flour, baking soda, and salt. Make sure flour is measured to exact measurements.
Mix the dough until combined. The dough should be soft and sticky.
Stir in chocolate chips.
Scoop out 1.5 tablespoons of dough and place 2 inches apart on a baking sheet.
Bake for 7-10 minutes, or until cookies are a little underbaked in the middle.
Pumpkin Snickerdoodle Cookies
This recipe has been a good one and definitely gets you into the fall mood.
Ingredients:
1 cup salted butter at room temperature
1 cup granulated white sugar
1/2 cup light brown sugar
3/4 cup pumpkin puree
1 egg
2 teaspoons vanilla extract
3 3/4 cup all-purpose flour
1 1/2 teaspoon baking powder
1/2 teaspoon salt
1/2 teaspoon ground cinnamon

Cinnamon Sugar:
1/2 cup granulated white sugar
1 teaspoon ground cinnamon
1 teaspoon pumpkin pie spice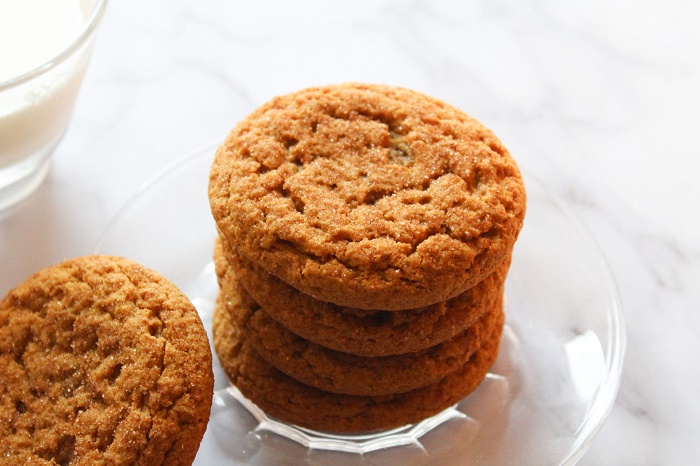 Instructions:
Beat butter in a large bowl until fluffy with an electric mixer.
Add sugars and pumpkin puree and beat well.
Add egg and vanilla to mixture and mix until fully combined.
In a medium-size bowl, whisk together flour, baking powder, salt, and ground cinnamon. Slowly add dry ingredients to mixing until combined.
Cover the bowl with the dough in plastic wrap and chill in the fridge for 1 hour.
After the dough has chilled, preheat oven to 350 degrees.
In a small bowl, mix cinnamon sugar ingredients together. Prepare baking sheets (spraying non-stick cooking spray on parchment paper).
Roll dough into a ball (roughly 2 tablespoons). Coat with cinnamon-sugar mixture and put on baking sheet 2 inches apart.
Bake for 12-14 minutes or until slightly firm to touch. Transfer to a wire rack after 5 minutes or removing cookies from the oven.
Soft and Chewy Sugar Cookies
This recipe made the Fall Cookie list because we like to frost them once they cool. We usually tint the frosting orange and use orange, black and white sprinkles. (Recipe via @butternutbakery)
Ingredients:
1 1/2 cups cake flour (175g)
1 1/2 cups all-purpose flour (192g)
3/4 tsp salt
1 tsp baking soda
1 cup unsalted butter, melted (225g)
1 1/4 cups granulated sugar (272g)
1/4 cup packed light brown sugar (53g)
2 tsp vanilla extract
1 large egg + 1 egg yolk
Sparkling sugar, for sprinkling on top (optional)
Instructions:
In a small bowl, whisk together the dry ingredients (cake flour, all purpose flour, salt, and baking soda) and set aside.
In another bowl, using a hand or stand mixer with the paddle attachment, mix together the melted butter and sugars on medium speed until it completely comes together. It should reach the consistency of a thin paste.
Mix in the egg, egg yolk, and vanilla.
Mix in the dry ingredients in thirds until it all comes together. Careful not to over mix since we're going for a more dense but tender cookie.
Line a plate or small cookie sheet with wax paper or parchment paper. You will not be baking on this sheet.
Using a large 2oz scoop, scoop out the dough and set them side by side on your tray. You want them to be nice and rounded, do not flatten. Place them in the fridge for at least 4 hours but preferably overnight. You want them to be almost rock hard when you put them in the oven.
When ready, preheat the oven to 375F. Place 4-5 cookies about 3 inches apart on a large baking sheet lined with parchment paper. Bake for 12-14 minutes. 12 lends a more doughy center so add on a couple minutes if you want a more baked cookie. You're looking for a LIGHT golden brown edge. They'll still look pretty pale in the middle but they will darken slightly as they cool.
Transfer to a cooling rack. While they're still warm, you can sprinkle the cookies with sparking sugar (found in the sprinkle section) to get that bakery-style look.
These cookies can be enjoyed fresh from the oven or the next day. When fresh, they'll be VERY soft in the middle but at room temperature, they're perfectly tender and chewy. They're delicious either way!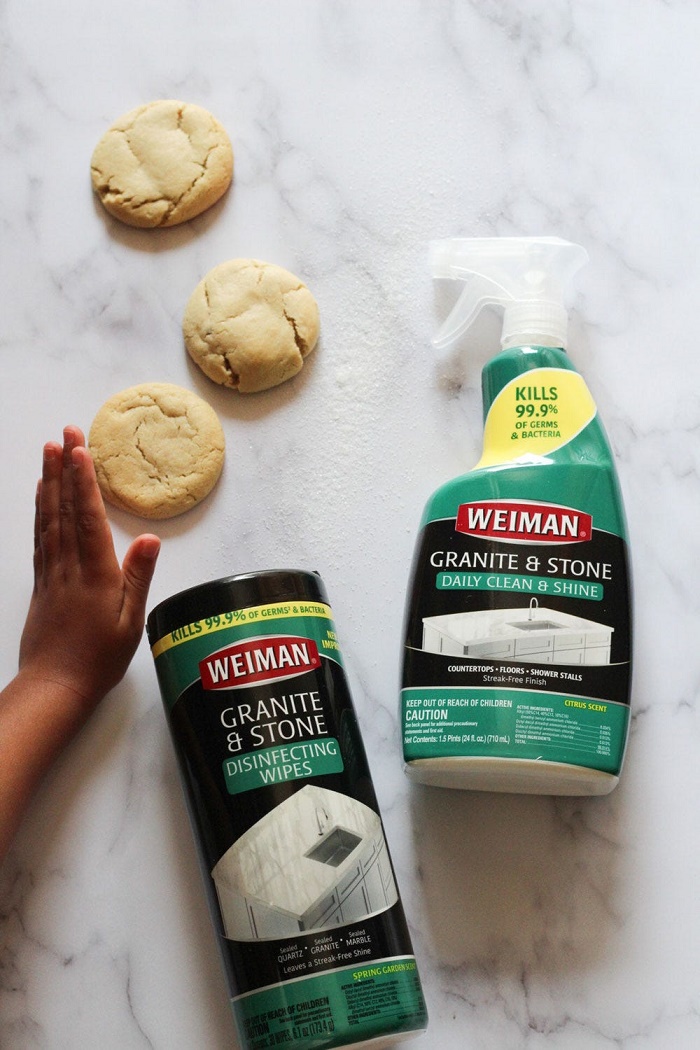 Hope you and your family enjoy these sweet cookies! Let me know which one was your favorite. I would love to hear!