ARTICLE POSTED BY TARYN ROTHSTEIN OF @PASADENACHARM

Taryn Rothstein is the Social Media Strategist and Story-Teller behind Pasadena Charm. Living the "Charmed Lifestyle" she always dreamed of in Pasadena, Ca. Taryn is a (wife + mama + entrepreneur) California girl at heart with the smarts to back up her brand, Pasadena Charm. A social media consultant/city influencer that was naturally created from all her local experiences. Known in her community as the "TikTok Queen" she curates unique and charming content combining fashion, DIY, lifestyle, beauty hacks, and creative directing. Through one-on-one coaching and workshops, Taryn has a passion for teaching others how to grow brand awareness and create content that resonates with their followers.
The fall is so beautiful because it represents CHANGE. When I think of change at this time some things that come to mind include: The cool weather, leaves falling from trees, digging out warm blankets, and reading books by the fireplace (currently reading…Where the Crawdads Sing).
This time of year I often find myself getting crafty in my kitchen. I am inspired by the tastes of the season – pumpkin, apple, cinnamon..to name a few. As I get busy in the kitchen there is certainly more to clean-up. I always make sure to have Weiman Disinfectant Granite & Stone Clean & Shine Spray products on hand to tackle the surfaces in my home. They go beyond simply cleaning, they beautify and protect each surface, allowing your home to look it's absolute best – charming, inviting, and clean.
If you wondering what I'm cooking up, it's mocktails! I was a bartender for five years after college and it was where I met my husband. I crafted up some charming mocktails that I promise you will taste like Autumn in a glass.
CARAMEL APPLE PIE – MOCKTAIL
The Sparkling Cran-Apple Cider exploded all over my countertops when I opened it to make this recipe. I'm so happy I had my Weiman Disinfectant Wipes nearby, along with the Granite & Stone Daily Clean and Shine to finish off the countertops for a beautiful, clean surface to craft this mocktail.
INGREDIENTS
1 bottle Martinelli's Sparkling Apple Cider (I used Cran-Apple Cider)
1/2 cup caramel syrup
3 cups sparkling water or ginger ale*
Cinnamon Sticks
2 Red apples
Rosemary sprigs
Golden brown sugar for rimming

*Sweet level is high on this drink. Use regular sparkling water instead of ginger ale if you don't want it any sweeter.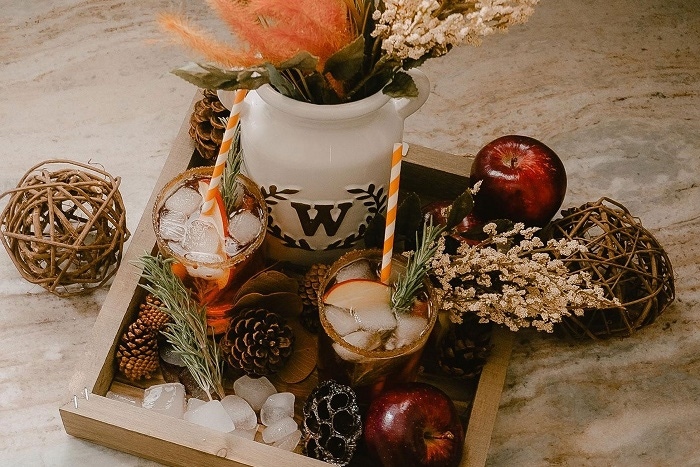 INSTRUCTIONS
Cut the apples into thin slices and set aside with rosemary and cinnamon sticks.
You'll need 2 plates. 1 for caramel and 1 for brown sugar. Rim your glasses first then fill with ice.*
Pour in your Sparkling Apple Cider, then top with ginger ale or soda for extra bubbles and adjust to your liking.
Add 1 apple slice, rosemary spring and cinnamon stick to each glass and cheers, you've made a super simple yet eye-popping mocktail.
*Charm Tip: Use square ice cubes. They melt more evenly and look fancy!
CAN'T LET GO OF SUMMER – MOCKTAIL
If you're not quite ready to let go of summer this drink is for you. Take advantage of the juicy, pink grapefruits at your local market while they are still in season. Then dust off your boots, unpack the Fall decor and sip on this, "Can't Let Go Of Summer – Mocktail."
If you find your surfaces to get sticky from the citrus, my granite countertops certainly did, use the Weiman Disinfectant Granite & Stone Wipes to get a streak-free shine on the surface.
INGREDIENTS
Fresh Grapefruit Juice
French Soda
Naval Orange
INSTRUCTIONS
Juice or Buy Fresh Grapefruit Juice. Don't forget to strain.
Pour over ice.
Top with your favorite Flavored Fizzy Soda. I love the "Blood Orange" Grapefruit – French Soda found at Cost Plus in Pasadena.
Squeeze the juice of one orange wedge into the glass.
Add a fun straw and an orange wedge for garnish.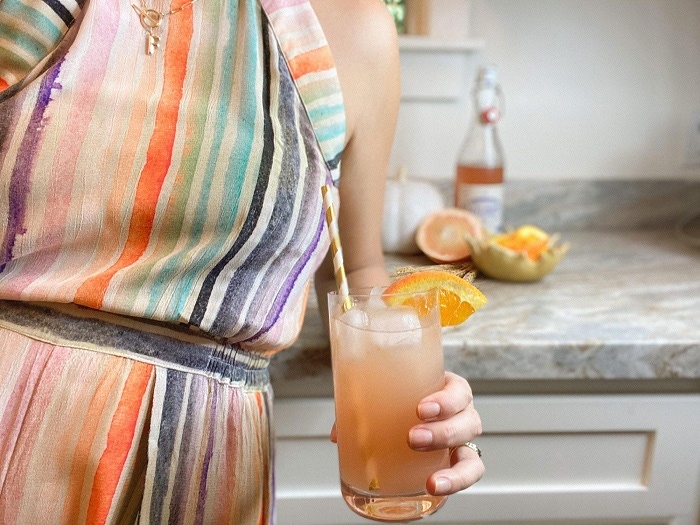 THE TEACHER'S AID – MOCKTAIL
These days I'm taking on a whole new role…as a teacher. I'm sure I'm not alone with the struggles of balancing mom life/family life and teacher life. Helping my son navigate 2nd-grade distance learning has its challenges. Once the school bell rings I escape to my kitchen to whip up, "The Teacher's Aid – Mocktail." When I'm done I wipe my surfaces with the Weiman Disinfectant Granite & Stone Clean & Shine Spray. I have to keep this "classroom" clean!
INGREDIENTS
2 Limes
Sparkling water or ginger-ale*
Cranberry or Cranberry-Apple Juice
Sugar Cubes
Apple slice for Garnish

* Ginger-ale will result in a sweeter beverage
INSTRUCTIONS
Squeeze and strain limes.
Pour cold cranberry or cranberry-apple juice into a glass.
Top with ginger ale or sparkling water.
Add lime juice to taste.
Add apple slice to glass for garnish.
Drop 1 sugar cube in just before enjoying it.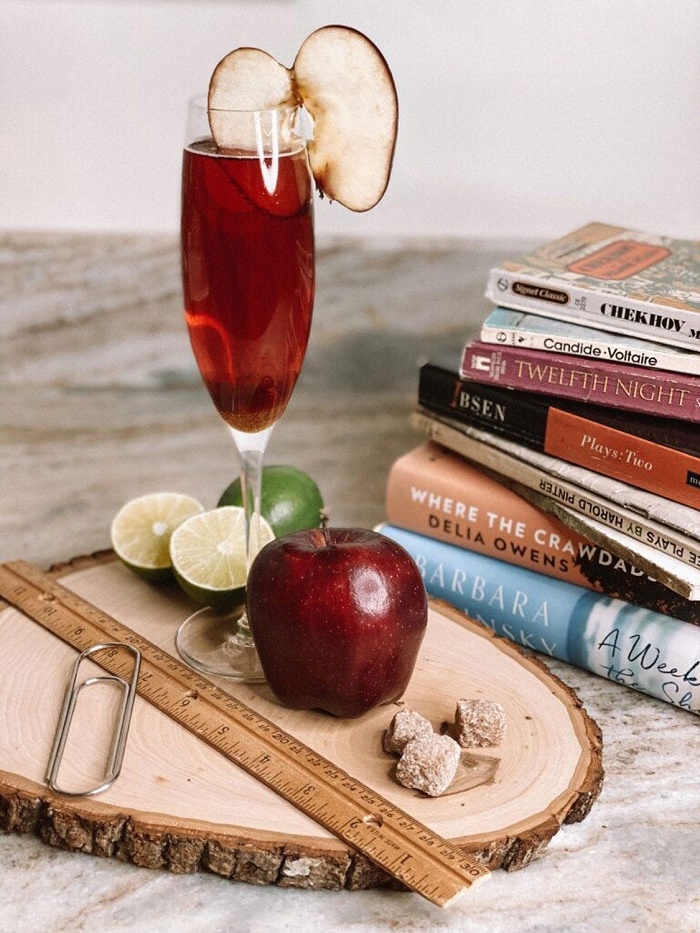 OMBRÉ GRAPEFRUIT "DAY OF THE DEAD"
This fun and easy recipe proves that even mocktails can be works of art. The different densities of the ingredients create a beautiful ombré effect, perfect to wow your holiday guests. Served in a champagne glass, it's elegant enough for an evening party but refreshing enough (thanks to the grapefruit) to suit a brunch as well.
No matter when you serve it make sure to have your Weiman Disinfectant Granite & Stone Wipes and Weiman Disinfectant Granite & Stone Clean & Shine Spray on hand. When it's time to clean-up you'll do it with confidence knowing these products are superior to the rest.
INGREDIENTS
2 cups grapefruit juice, chilled
1/4 cup simple syrup
1 can Sprite or 7Up, chilled
Grenadine
Ice
INSTRUCTIONS
Add 1/2 cup grapefruit juice and one tablespoon of simple syrup to each glass.
Top each off with the soda (cold) and a teaspoon of grenadine.
You can add a stir stick or straw, but don't stir until after it's served (or else it will no longer be ombré!).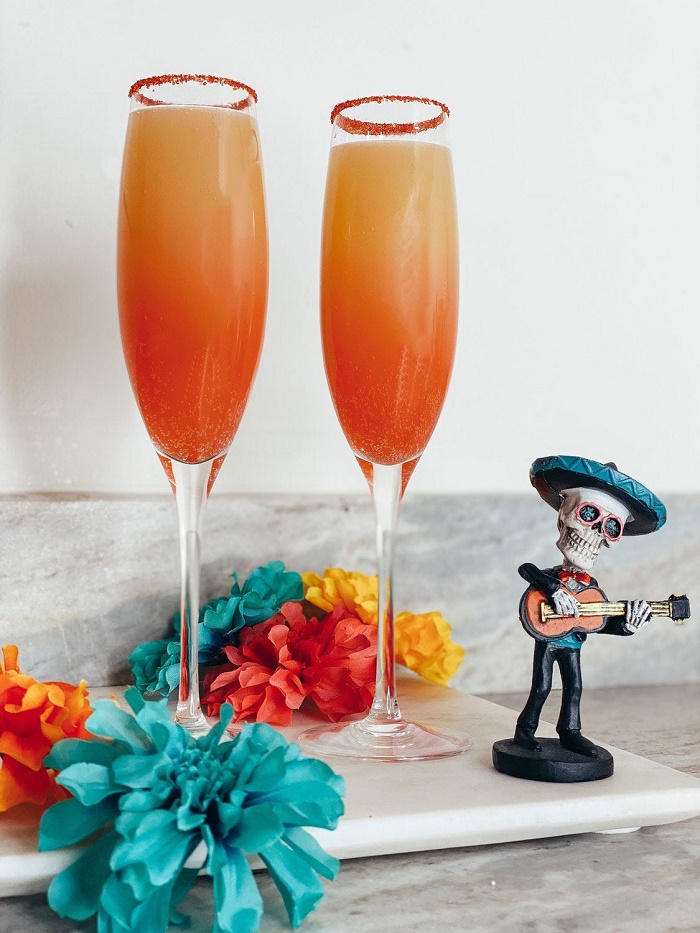 AUTUMN HARVEST SANGRIA
Summer's favorite drink, sangria, gets a fall twist. I served up this Autumn Harvest Sangria in my grandmother's pitcher. She was the queen of entertaining and she taught me to always bring your own drinks to a party. It's a fun contribution and you will always have exactly what you're in the mood for.
When I'm not using her beautiful vintage pitcher for sangria, I use it as a vase. It's always featured in our home. A beautiful piece needs to be displayed on a beautiful surface. This is why I make sure to use Weiman Disinfectant Granite & Stone Clean and Shine Spray on my countertops to ensure the surface is streak-free for grandma's pitcher.
INGREDIENTS
Martinelli's apple grape juice
Sparkling water
Cranberry juice or orange juice*
Chopped fruit (limes, oranges, blueberries, peaches, strawberries, apples)*
Ice
Cinnamon sticks
Chopped herbs and fresh citrus slices, to garnish

Fun Tip: Use what you have! A lot of ingredients can be replaced and switched to your liking.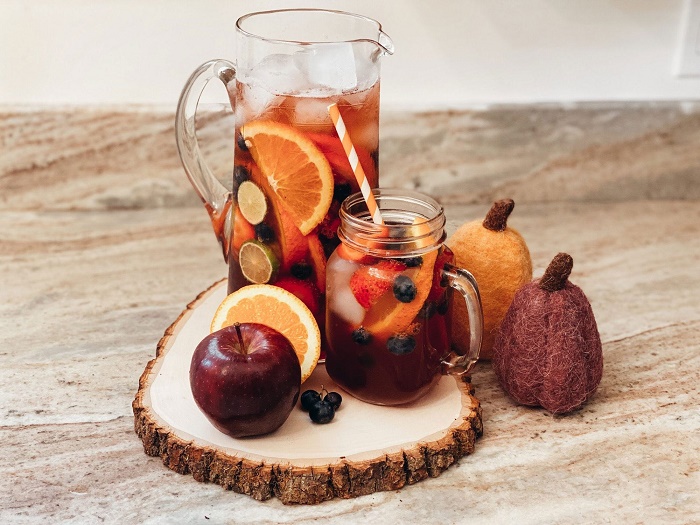 INSTRUCTIONS
Add the grape juice, orange juice, and sparkling water and chopped fruit to a large pitcher or drink dispenser.
Place the Sangria mocktail in the fridge and let it chill for a minimum of 1 hour.
Remove from the fridge, top with ice, and garnish your drink with herbs and fruit before serving.
PUMPKIN SPICE HOT CHOCOLATE
What's Fall without Pumpkin Spice? Pumpkin spice is a staple this time of year! If you're a lover of the famous pumpkin spice latte, also known as a "PSL," you should try to whip up this Pumpkin Spice Hot Chocolate. Before you grab your ingredients grab your Weiman Disinfectant Granite & Stone Wipes to prep your surface.
INGREDIENTS
Latte or hot chocolate
1/4 cup pumpkin puree
1/8 teaspoon ground nutmeg
1/2 teaspoon ground cinnamon and 1 cinnamon stick
INSTRUCTIONS
Brew coffee or make hot chocolate.
In a small saucepan combine pumpkin, vanilla extract, nutmeg, and heat over medium heat until steaming – do NOT boil.
Pour pumpkin mixture over coffee/hot chocolate.
Top with whipped cream and cinnamon or nutmeg, if desired.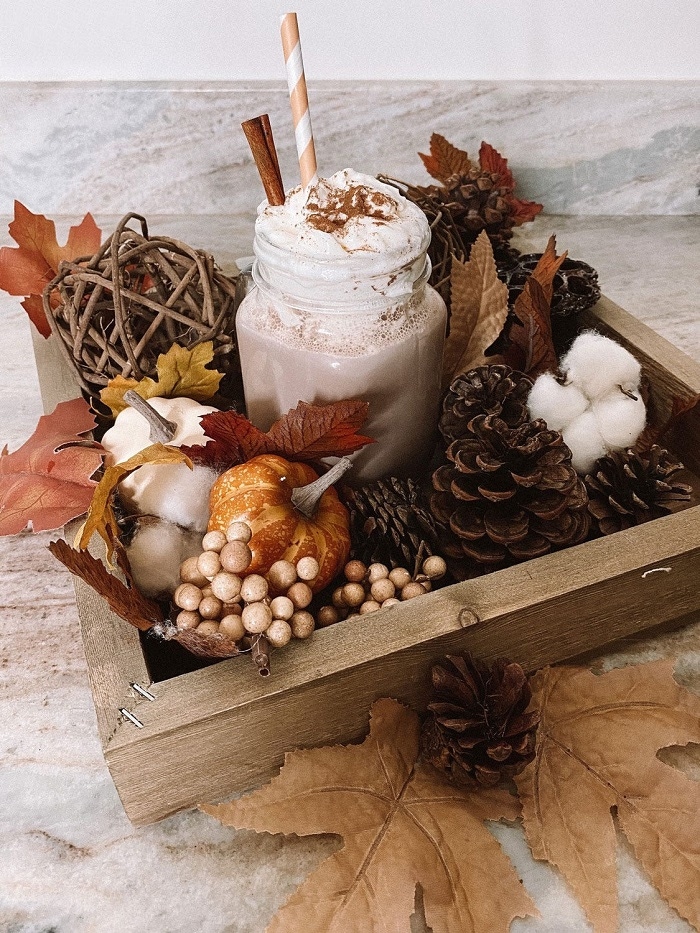 Let's say we all drop everything and call the family to the kitchen. We whip up these Autumn mocktails then kick-back, relax, sip and enjoy. You deserve it, Charmer! When it's time to clean-up don't forget your Weiman Products. They are so much more than clean and 100% Pasadena Charm Approved.