Kate Horney is the founder of BeyondFitMom.com, where she chronicles her life as a Pre & Postnatal Fitness Expert. Kate is a wife & mom who is passionate about helping women live a healthy, happy, and balanced life. For a daily dose of health, parenting tips, and much more, follow her on Instagram at @beyondfitmom.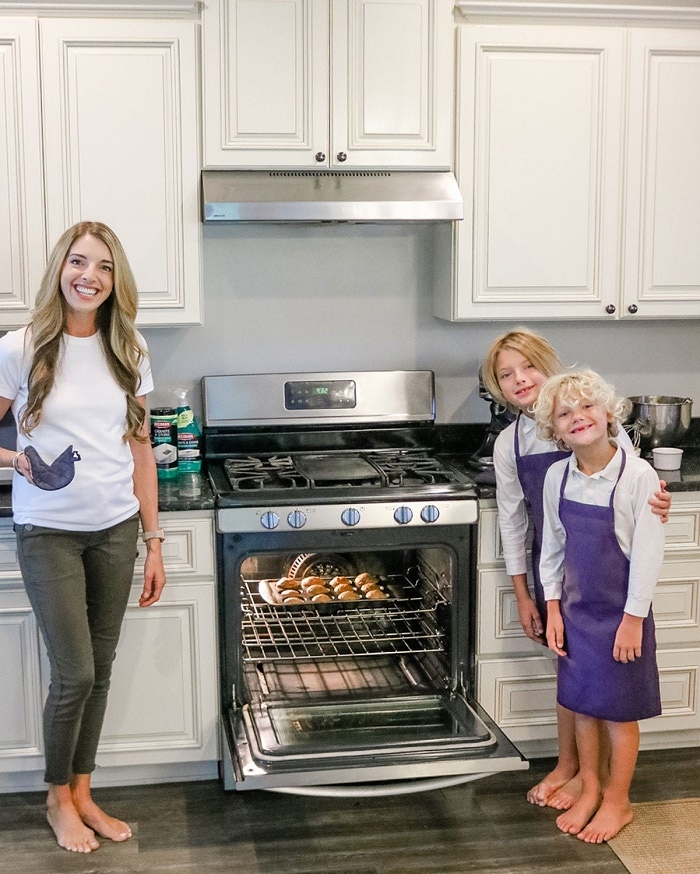 'Tis the season for… Pumpkin!
We might be a little too excited about pumpkin, but we just can't help ourselves….
Pumpkins are low in saturated fat and calories! Pumpkin is a great way to provide your family with an extra fiber boost, and as a huge added bonus, pumpkins contain very little cholesterol or sodium!They are also chock full of vitamins and minerals such as: Vitamin E, Vitamin B6, Folate, Iron, Magnesium, Vitamin A, Vitamin C and Potassium. Not to mention, they're pretty darn tasty too! There are so many delicious recipes and ways to get the health benefits of pumpkin this fall.
One of our family favorite's is by making these kid-friendly pumpkin muffins. They're super simple, healthy, and sweetened naturally with maple syrup!
They're gluten-free, dairy-free, and easy to make nut-free if needed!
With just a handful of ingredients, these they're a treat that we love to make and enjoy each fall for breakfast, snack, or any time!
INGREDIENTS:
2 tbsp Ground Flax Seed
1/3 cup Water
1/3 cup Unsweetened Almond Milk
1 tsp Apple Cider Vinegar
1 1/2 cups Oat Flour
1 cup Almond Flour
1 tsp Baking Soda
1/2 tsp Baking Powder
1 tsp Pumpkin Pie Spice
1/4 tsp Sea Salt
1 cup Pureed Pumpkin
1/2 cup Maple Syrup
2 tbsps Coconut Oil (melted)
1/2 cup Walnuts (roughly chopped)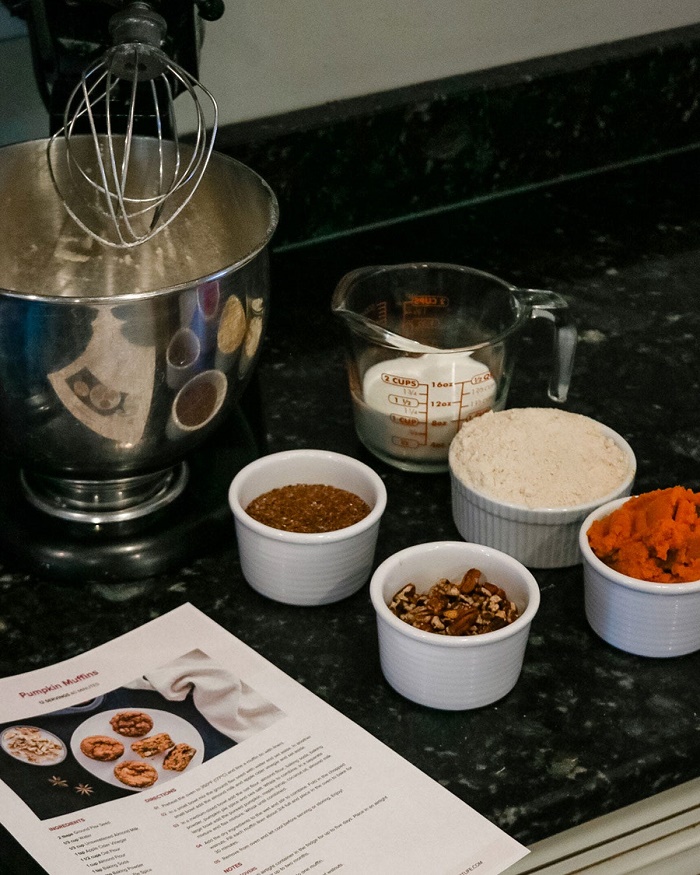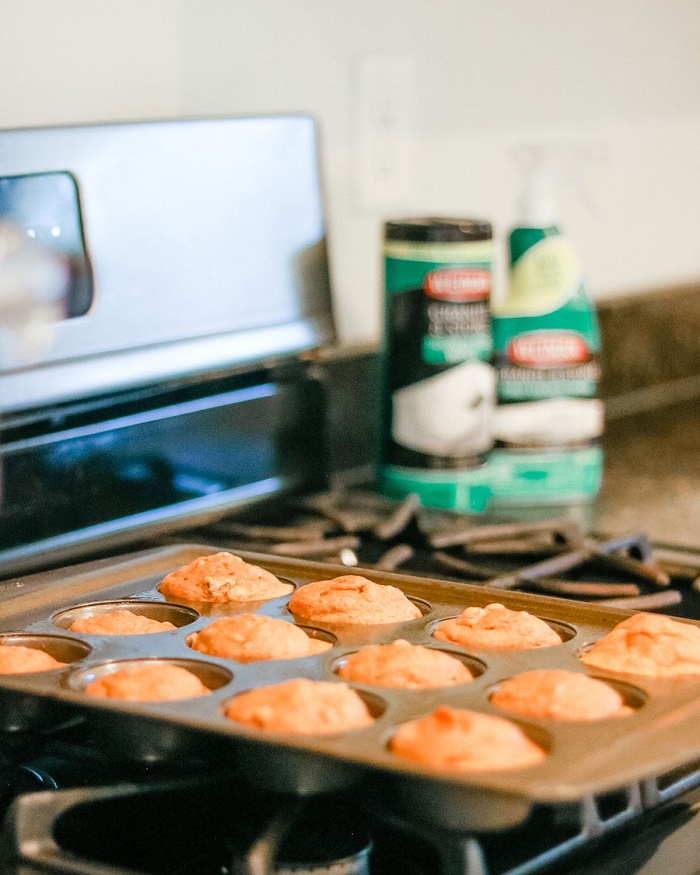 DIRECTIONS:
Preheat the oven to 350ºF (177ºC) and line a muffin tin with liners.
In a small bowl mix the ground flaxseed with water and set aside. In another small bowl add the almond milk and apple cider vinegar and set aside.
In a medium-sized bowl add the oat flour, almond flour, baking soda, baking powder, pumpkin pie spice, and sea salt. Whisk to combine. In a separate large bowl add the pureed pumpkin, maple syrup, coconut oil, almond milk mixture, and flax mixture. Whisk until combined.
Add the dry ingredients to the wet and stir to combine. Fold in the chopped walnuts. Fill each muffin liner about 3/4 full and place in the oven to bake for 30 minutes. (Makes 12 Muffins)
Remove from oven and let cool before serving or storing. Enjoy!
Nutrition:
Protein: 6g
Sugar: 9g
Fiber: 4g
Carbs: 24g
Fat: 12g
Calories: 216
RECIPE NOTES:

Leftovers? Store in an airtight container in the fridge for up to five days. Place in an airtight freezer bag for up to two months.
No Walnuts? Use chocolate chips instead of walnuts.
Time For Clean-Up:
Baking with kids always seems like a great idea, until you have to clean up….
Weiman has become my secret weapon to clean the kitchen, including the aftermath of our recent venture in muffin making with my two sweet (yet messy) little bakers.
Spend less time cleaning and save more time for muffins with Weiman's Granite & Stone Daily Clean & Shine with Disinfectant to keep your family healthy and your kitchen clean. From the granite countertops to the stainless steel appliances to the stubborn gas stovetop, Weiman cleaning products help keep all my surfaces clean, protected!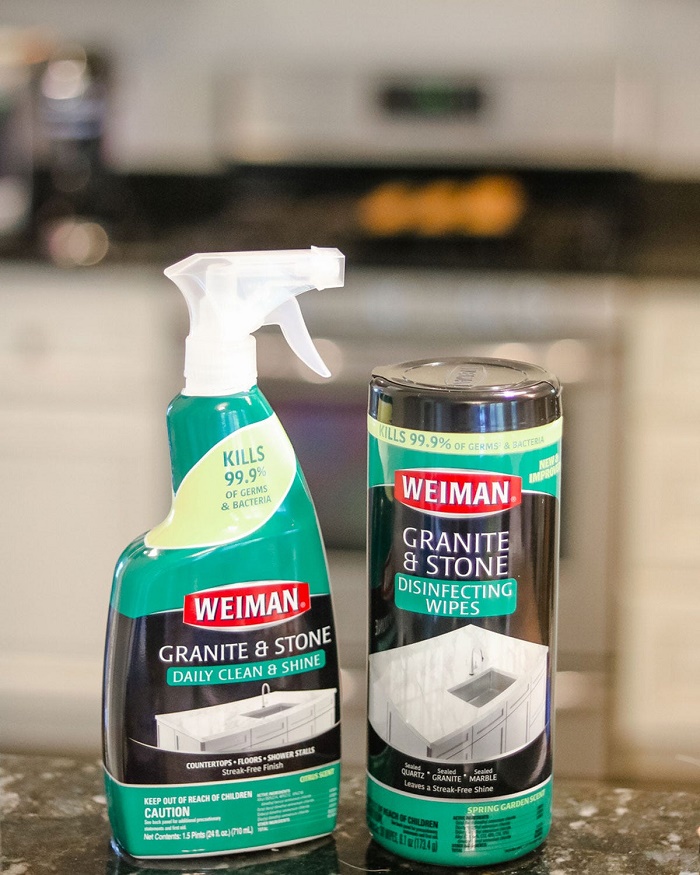 Weiman Disinfectant Granite & Stone Clean & Shine Spray
Clean, shine, & disinfect all hard, non-porous surfaces in your home. This formula kills 99.9% of Germs & Bacteria* (including human coronavirus) on sealed stone surfaces, including granite, marble, limestone, slate, and glazed tile.
*DISINFECTION PERFORMANCE: This product kills the following bacteria in 10 minutes on hard, non-porous surfaces: Escherichia coli, Salmonella enterica, Staphylococcus aureus.
VIRUCIDAL PERFORMANCE: This product kills the following viruses in 10 minutes on hard, non-porous surfaces with 5% soil: Human Coronavirus (ATCC VR-740) and Influenza A Virus (VR-1469). Weiman Disinfectant Granite & Stone Wipes
Weiman Granite & Stone Wipes now have the power to disinfect your sealed stone surfaces. The new disinfecting formula kills 99.9% of germs and bacteria in 4 minutes on hard, non-porous surfaces. Weiman Disinfecting Granite & Stone Wipes wipe up tough messes while leaving a streak-free shine.
Clean, shine and disinfect countertops, floors, showers, sinks, and more in kitchens, bathrooms, and other household areas. This stone-safe disinfectant formula can be used to kill germs, bacteria, and viruses on sealed stone surfaces, such as granite, marble, quartz, glazed porcelain, and glazed ceramic. When used according to the disinfection directions, Weiman Granite & Stone Disinfecting Wipes kill the following:
Bacteria: Staphylococcus aureus (Staph), Salmonella enterica (Salmonella), Escherichia coli O157:H7 (E. coli O157:H7), Streptococcus pyogenes (Strep)
Viruses: Influenza A Virus H1N1, Human Coronavirus, Respiratory Syncytial (RSV)