Ashley Dixon is the founder of Alexanderrenee.com, a place for all things home décor. When she's not busy working, sharing fun finds, and brands that she loves, she's out adventuring with her family. For daily adventures in motherhood, style, beauty, and home décor, follow her on Instagram at @ALEXANDERRENEEDESIGN.
As soon as the temperatures start to rise, I'm ready to fire up the grill and head out to the pool. This also cues summer décor refreshes in the kitchen---think lemons! Summertime means more family time and entertaining friends and lots of kids running around. Along with all the great summer memories, I know that the kitchen easily becomes the most used space—next to the pool. I'd rather spend more time outside than cleaning up, so I look for quick and fast ways to clean. Weiman makes it easy with their line of cleaning products, designed to keep that kitchen sparkly clean. Here are a few tips on how to get your kitchen summer ready.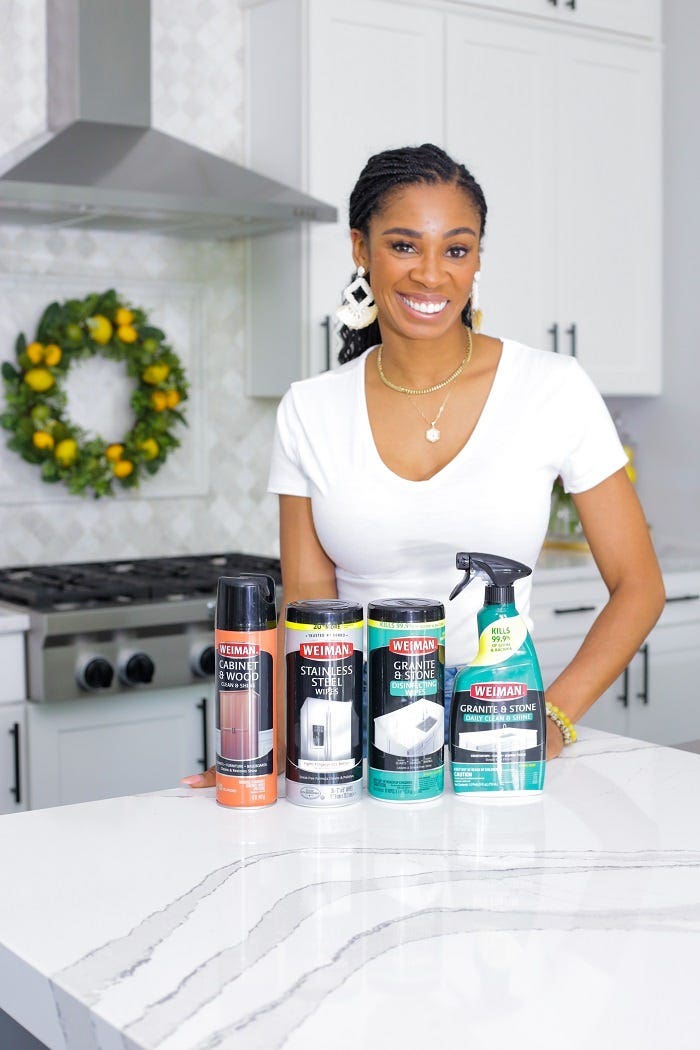 CLEANING
Before we can get to décor, we have to make sure the kitchen is clean. To stay on top of the everyday kitchen messes that are bound to happen, I rely on my Weiman Granite and Stone Disinfecting Wipes. I wipe down the counters at least twice a day. These wipes are so easy to use and work great on my quartz countertops and backsplash. Total bonus that these wipes kill 99.9% of germs and bacteria. I discovered these wipes last year during the household cleaner wipe shortage and was sold with how well they cleaned my counters in addition to keeping them germ free. I love that they are convenient to grab when a mess pops up. These are also perfect to grab to clean up the messes left behind by my kids when running back and forth from the kitchen and pool.
I also love to use the Weiman Granite and Stone Disinfecting Spray to make sure no germ is left behind. The spray is great to get rid of the grease that builds up on my marble backsplash from everyday cooking behind the stove. I love that the spray offers more coverage area to clean more in less time. The Weiman Granite and Stone Disinfecting Spray is also perfect for clean up after entertaining and grilling out especially for large messes and bigger surfaces like the kitchen island.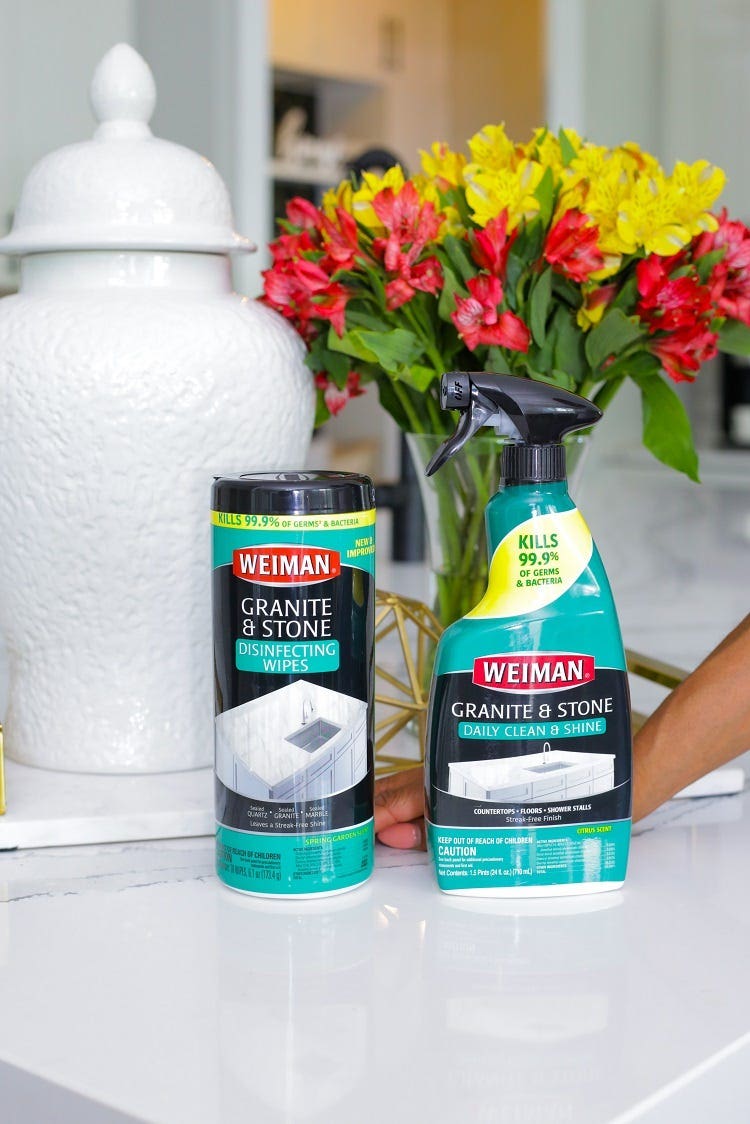 We can't have clean counters and neglect the rest of the kitchen. Sticky fingers do not discriminate, and I frequently wipe down the fridge with Weiman Stainless Steel Wipes and buff with the Weiman Microfiber Cloth for Stainless Steel to keep it looking great.
And somehow when grilling out, barbeque sauce ends up on a cabinet, every single time. To clean up those messes, I turn to the great smelling Weiman Cabinet and Wood Clean and Shine as my go to.
DÉCOR
Now that the kitchen is all clean, let's talk summer refresh with small and simple décor changes. To signal the change from spring to summer, I pack up the pastel colors and bring out the bright summer colors. Summer to me is all about the lemons and lemonade and that's reflected in my décor refresh.
To make sure things are clean and beautiful for summer, I add a few summer touches throughout. I like to keep my counters clutter-free, so I only focus on a few areas: kitchen island, over the stove, and the corners. My wreath signals the season changing in my kitchen, so I had to add one with lemons. A bowl of lemons in the corner for a simple and cheery way to bring summer into the kitchen.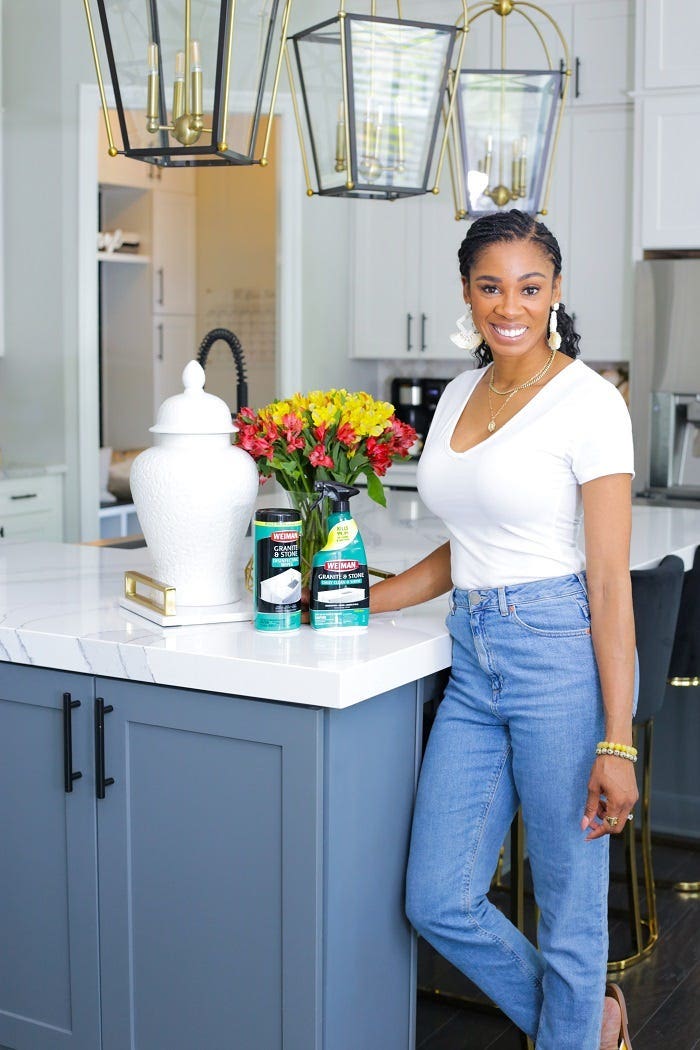 I love to have fresh florals on the kitchen island to make things feel homey and bright. Hydrangeas are my go-to year-round, but I like to add lemons for the summery feeling. Nothing better than fresh décor and a glass of lemonade.
No matter how you refresh for the summer season, be sure to keep it clean with Weiman Products.