Ashley Dixon is the founder of Alexanderrenee.com, a place for all things home décor. When she's not busy working, sharing fun finds, and brands that she loves, she's out adventuring with her family. For daily adventures in motherhood, style, beauty, and home décor, follow her on Instagram at @ALEXANDERRENEEDESIGN.
Stainless steel appliances bring a modern, fresh, and high-end feel to any kitchen. When your brand-new stainless steel fridge, stove, dishwasher, even toaster arrives, it has that sparkly shine to it that says "hello, I'm new here". If you're like me, you even prolong taking off those protective plastic pieces because you don't want it to get dirty. But eventually, you finally take off the plastic because this isn't your grandma's house (sorry grandma). Then enter kids, or big kids (husbands), and life…that "I'm new here" shine is gone from that gorgeous stainless steel appliance. I know it's a sad day, but luckily, I've found the solution. Well three solutions, yup three ways to bring that old thing back [well new thing :)] and make your stainless-steel appliances feel like the new girl again. It doesn't matter if it's day 2 or 2,222, here's my favorite stainless steel cleaner that comes in three varieties for you to choose.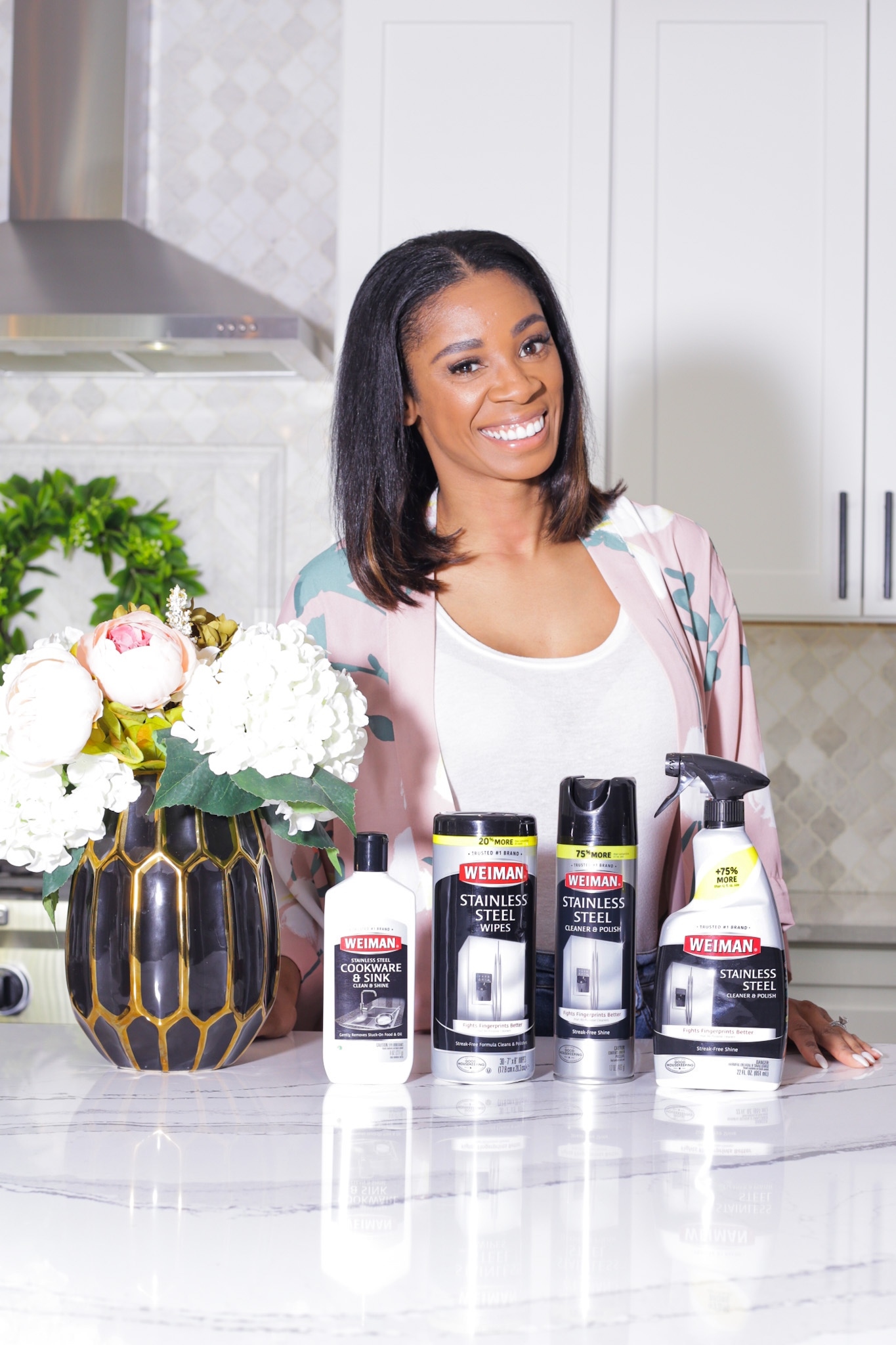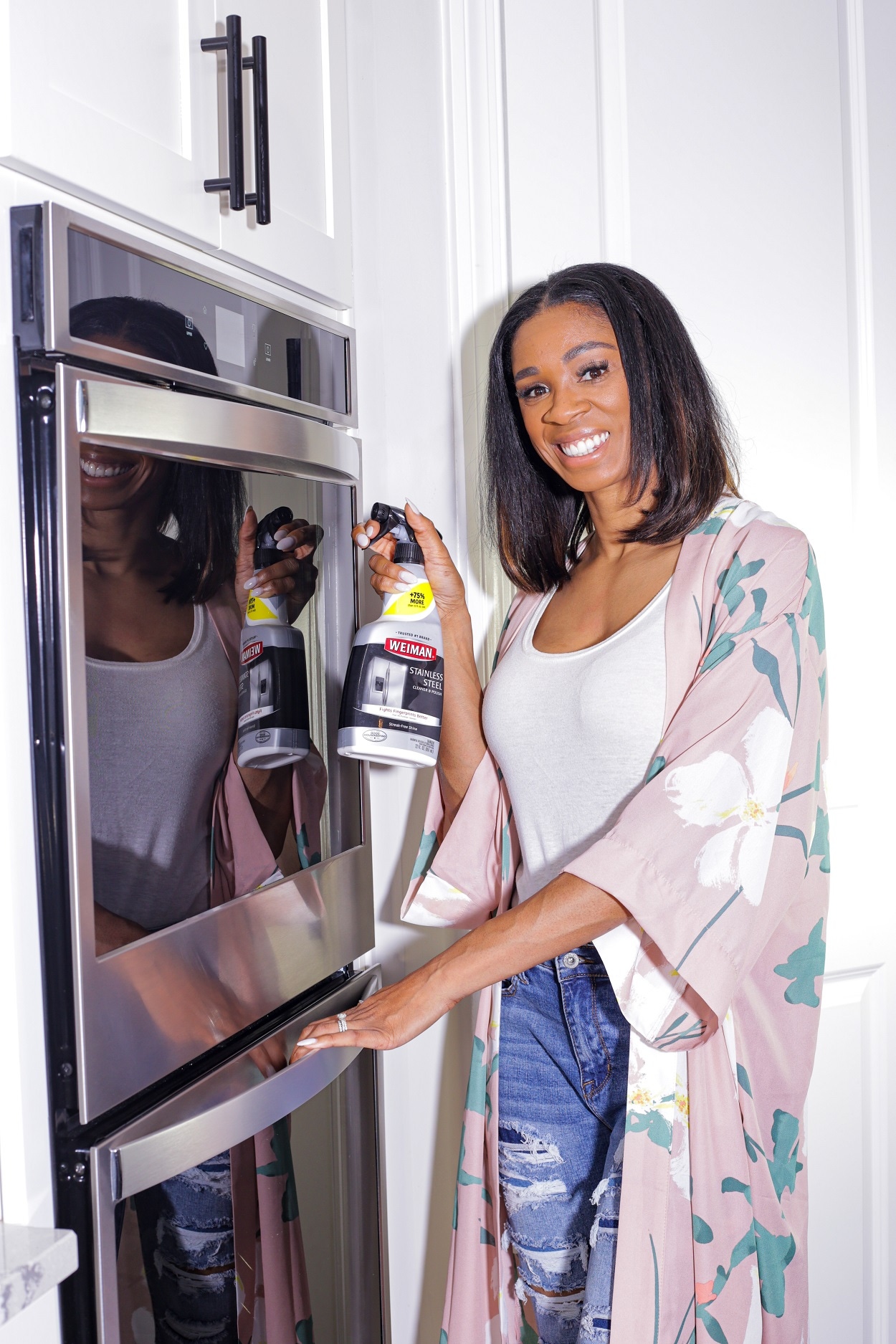 Products Not Safe for Stainless Steel
While stainless steel is super easy to clean, there are a few things to avoid. Let's avoid those super abrasive cleaning products like bleach and ammonia. Also leave those rough steel wool pads for those caked on dishes, as they can scratch and damage your appliance and ruin that shine we are trying to achieve. Just say no. Of course, always test any new product in a small area before you go full on Saturday cleaning mode and ruin that $2000 fridge okay?
How to Shine Stainless Steel Appliances 
After using either the Weiman Stainless Steel Cleaning Wipes or Weiman Stainless Steel Cleaner & Polish Spray, you may think this isn't the shine I was looking for. Just wait. The magic is coming. For that day 1 shine to your appliances, be sure to buff with a Weiman Microfiber Cloth for Stainless Steel afterward. If you don't have a cloth, you can use a paper towel, but the cloth is worth it for maximum shine.
You know what else keeps the shine a little longer that doesn't involve bubble wrapping the kids and hubby? The added protectant in Weiman Stainless Steel cleaners! These products help you work smarter not harder until you can find that bubble wrap.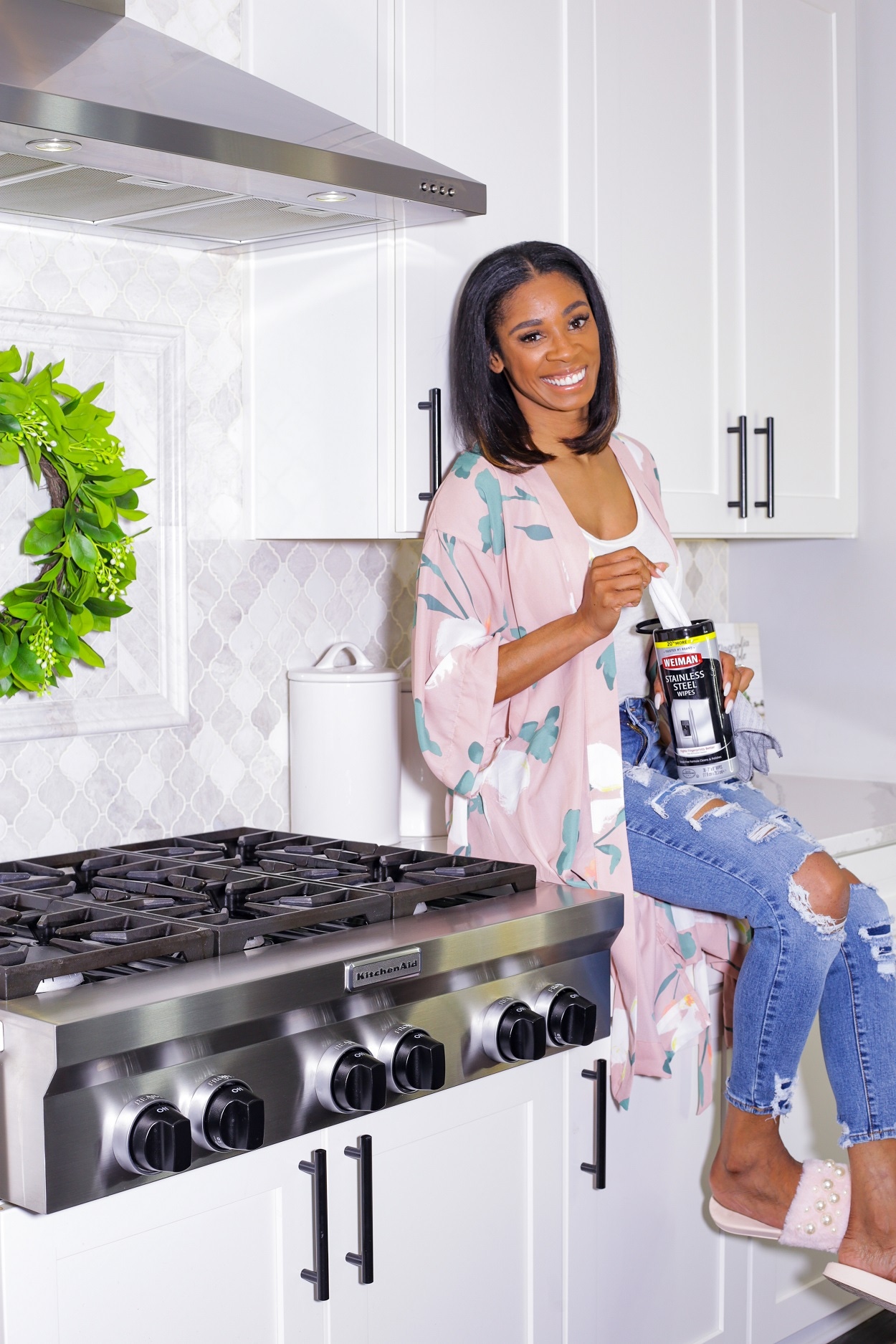 Stainless Steel Cookware and Sink Cleaning
Now that your fridge, dishwasher, and oven look like the new girls in town again. Don't forget about the most used part of the kitchen. That sink. I love using Weiman Stainless Steel Cookware & Sink Clean & Shine to finish any kitchen cleaning. My stainless steel farmhouse sink takes a beating sometimes but the sink cleaner quickly brings it back to life. I also just realized I can use the same product for my stainless-steel dishes when they need some extra love [winning].
Until next time, happy cleaning friends!