ARTICLE POSTED BY ASHLEY ROSS OF @ASHWISDOM.
Ashley Ross is the founder of AshWisdom, a place for all things home décor. For daily adventures in motherhood, style, beauty, and home décor, follow her on Instagram at @AshWisdom.
To me summer is all about easy breezy fun! I don't like to waste my time cleaning and cooking when we could be outside enjoying the summer sun. That's why I'm so excited when I find an easy, yummy - no bake recipe that the girls can help with too. And even better, Weiman makes clean-up a breeze. Because who has time for that? The girls and I love Strawberry Shortcake! So, this is our easy take on the classic dessert - Strawberry Shortcake Fluff Salad. This is the perfect dessert for summer picnics or BBQ's and only takes about 15 minutes to make. Bonus, no cooking or baking required! Strawberries are so good in the summertime and this recipe is a delicious way to showcase fresh strawberries.
Ingredients:
Cake: Classic pound cake or angel food cake hold up great in this salad. I just buy plain from my local grocery store bakery. You can also use a box cake version or homemade as well. I like to cut the edges off the cake before using it in the salad.
Strawberries: Two pints of strawberries add a lot of fresh strawberry flavor. You can also use frozen strawberries in syrup for any additional flavor. Or substitute with strawberry pie filling.
Whipped Cream: Fresh or frozen whipped cream topping serves as a light, airy filling in this salad. It's also traditionally served with strawberry shortcake.
Sweetened Condensed Milk: Adds creaminess and moisture to the cake salad by binding the pieces of cake and serving as a sweet dessert filling to bring all the yummy ingredients together.
Marshmallows: Mini marshmallows add more texture and sweetness to this dessert.
How to make Strawberry Shortcake Fluff Salad:
Mix together whipped cream topping and sweetened condensed milk.
Stir in mini marshmallows. (If you're my kids you will eat half the bag in the process, LOL).
Slice strawberries and add to bowl.
Cut angel food cake into 1 ½ inch cubes. My girls just had fun ripping the cake apart.
Fold ingredients together until well combined.
Serve immediately or cover and refrigerate.
QUESTIONS AND TIPS:
Will this work if I make it in advance? Yes, but it's not recommended to make it more than 8 hours ahead of time. If you are baking a cake, that can be made in advance and the strawberries can be sliced ahead, too.
Does the cake turn mushy? No, it should not if the salad is eaten within 1 - 2 days.
How long is this dessert salad good for? It's best served within the first few hours of making it. But it can be covered and refrigerated for 1 - 3 days.
Can I make this shortcake fluff salad with other fruit? Yes! Any fresh fruit like blueberries, peaches, cherries, raspberries, apples or grapes would work well. Also, one or two cans of fruit pie filling in place of the fresh fruit can be substituted.
Tip: Best served the same day, the marshmallows soak in too much moisture, expand, then melt changing the texture. To fix, simply add more cake.
Nutrition:
Calories: 19 kcal
Carbs: 39g
Protein: 3g
Fat: 3g
Sugar: 31g
Fiber: 1g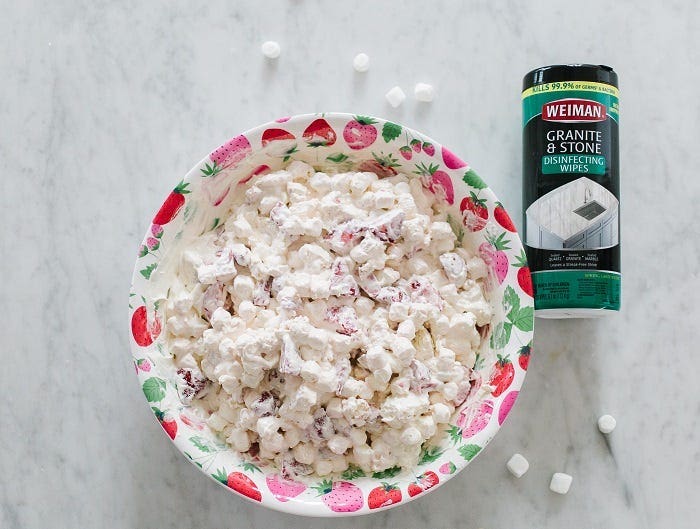 CLEAN UP TIME!
Next is cleanup time! And although I love when the girls help me in the kitchen, they sure know how to make a mess. Weiman Granite and Stone Disinfecting Wipes are a game changer! Not only do they kill 99.9% of germs and bacteria in 4 minutes; they wipe up tough messes while leaving a streak-free shine. These are a must in our kitchen, but we keep them in our bathrooms, too. Weiman Granite and Stone Disinfecting Wipes clean, shine and disinfect countertops, floors, showers, sinks and more in kitchens, bathrooms, and other household areas. They make cleaning so easy and quick.
My other favorite Weiman Products to use in our kitchen are the Weiman On-The-Go-Disinfectant Electronic Wipes and the Weiman Cook Top & Microwave Dual Action Wipes. The Weiman Disinfectant Electronic Wipes work perfect for keeping our tablet or phones clean when following new recipes. I also love that they can be used on other electronics like my computer, car touch screen, etc. They kill 99.9% of germs, bacteria & viruses. Including common household bacteria and viruses including Coronavirus (SARS-CoV-2) that causes Covid-19, Salmonella, E. Coli and Influenza A. It also dries clear and safely removes dirt, dust and hair and they won't scratch your devices.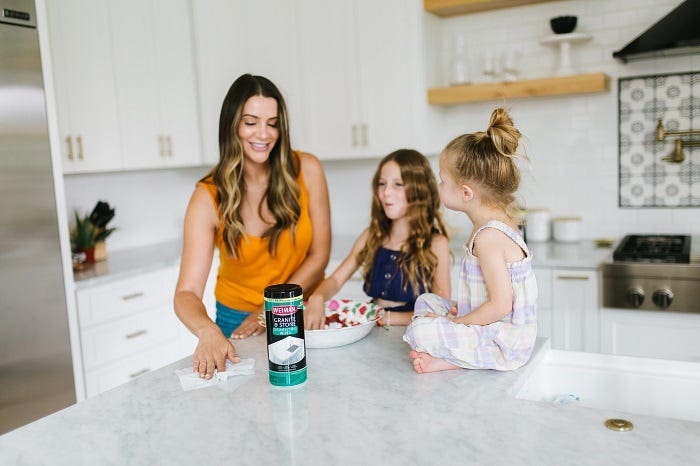 Lastly, the Weiman Cook Top & Microwave Dual Action Wipes remove splattered food, grease, and oily residue. They're quick, convenient, and never scratch. I will never go without these wipes. It makes microwave clean up so easy and that's one thing my family can never seem to keep clean. These wipes are quick, convenient and clean-up inside microwaves as well as on glass cooktop surfaces. The scrubby side helps lift splattered food, grease and grime. The smooth-side polishes to a streak-free shine without scratching. With daily use I've noticed it keeps my ranges looking new. I also love that I can conveniently buy all of these amazing cleaning products on Amazon.com or at my favorite local store.