Karen Snyder is the founder of Sanctuary Home Decor, where she chronicles everything from home décor, her family adventures, entertaining, and gardening tricks. For a daily dose of floral designs and family fun, follow her on Instagram at @sanctuaryhomedecor.
With summer in full swing, our kitchen and BBQ grill area are definitely the two hardest working places on the ranch. We have family and friends visiting all summer long and are often cooking or grilling for up to 16 people. As you can imagine, keeping the kitchen and grill clean is a BIG JOB, so I rely on Weiman Products to make sure it gets done quickly and easily!
We always serve meals, buffet style on the center island, so it needs a good cleaning several times a day. Weiman Granite and Stone Disinfecting Spray is the most efficient cleaner I have found to keep my countertops shiny and looking like new. Just a few sprays and a wipe with a dry cloth is all that is necessary. The best part is, I know my natural stone counters are not only clean but disinfected, which gives me peace of mind with so many people in our kitchen.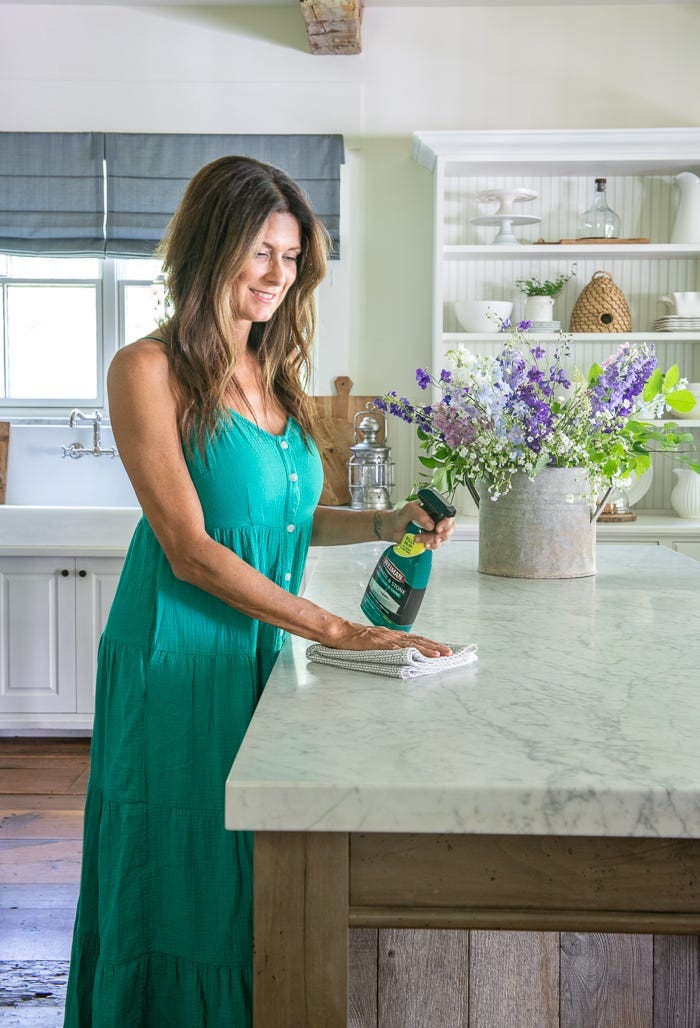 Our BBQ area also gets a ton of use all summer long and that means constant cleaning. I rely on Weiman Stainless Steel Cleaner & Polish Spray to get my outdoor grill in top shape in just minutes. Dirt, grease & grime from outdoor elements aren't a match for this cleaner!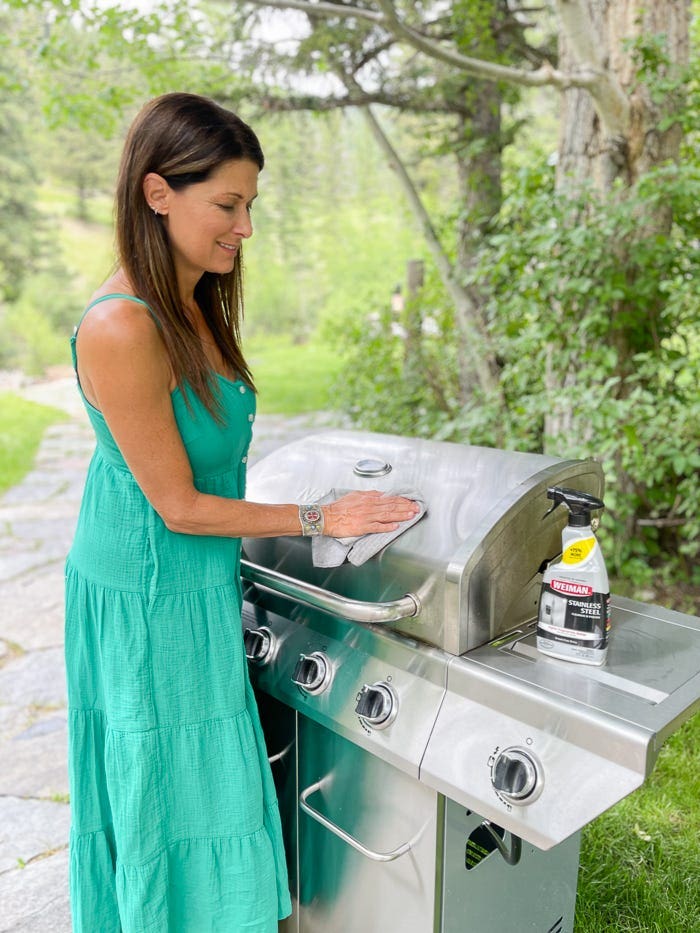 Speaking of stainless steel, I have a huge range in our ranch kitchen that gets as much use as our grill, so I am so happy to have a cleaner that not only cleans but also shines and repels fingerprints! I make sure to use the Weiman Microfiber Cleaning Cloth to get the best finish on all of my stainless steel appliances.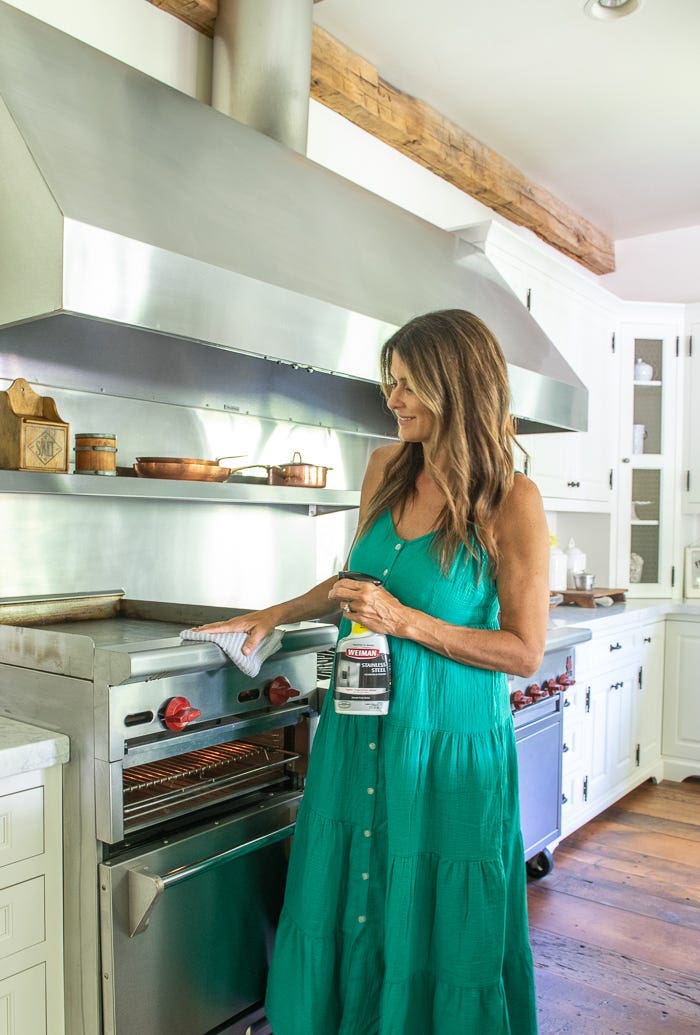 From the range to the microwave and the dishwasher to the grill the Weiman Stainless Steel Spray covers all of the hard-working appliances on our ranch. Since I have been using this Weiman Stainless Steel Cleaner, I have found that I don't need to clean my appliances as often.
As you can imagine, with all of the traffic in and out of the kitchen, my floors get pretty dirty! Our three dogs along with guests who have been out in the pond or on horseback rides track all kinds of dirt and grime into the house. I honestly don't mind though because I have Weiman Hardwood Floor Cleaner to keep my floors looking great 24/7.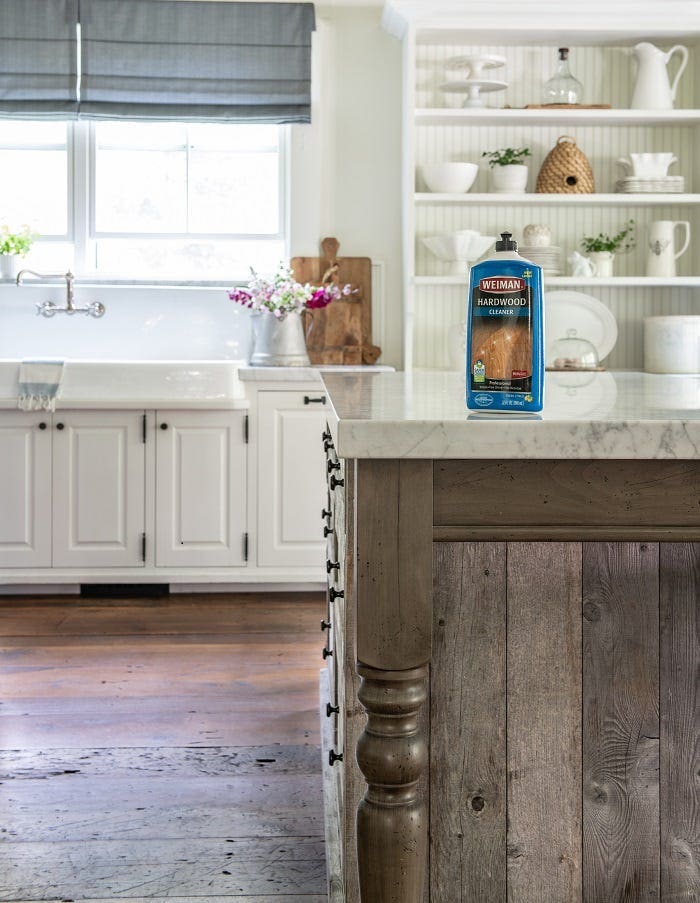 After a quick sweep or vacuum, this squirt and mop formula makes it so easy to clean and shine my floors. Just a damp mop and a bit of product covers a large area making it quick and easy to restore the shine I love to see.
After so many months apart, spending time with family and friends is my top priority, so the last thing I want to do is worry about cleaning. That is why I am so happy to have Weiman Products to keep my home looking beautiful!
They are efficient and simple to use and I know they will not only get my kitchen clean but keep it looking beautiful!