Ashley Dixon is the founder of Alexanderrenee.com, a place for all things home décor. When she's not busy working, sharing fun finds, and brands that she loves, she's out adventuring with her family. For daily adventures in motherhood, style, beauty, and home décor, follow her on Instagram at @ALEXANDERRENEEDESIGN.

The kitchen is arguably one of the most used rooms in my home. We do meals here, family time here, grab late night snacks and more. After your favorite meal is cooked, cleaning this space can feel like a daunting task. Dishes, while I can't come clean for you or throw in that personal housekeeper, I do have some tips on how I use my favorite Weiman Products to make that kitchen look & smell better and leave it a whole lot cleaner. To make everyday kitchen maintenance easier, an occasional deep clean is oh so necessary! Trust me on this guys.
So, let's get to it. Also, if you are short on time, feel free to jump to the kitchen checklist at the end!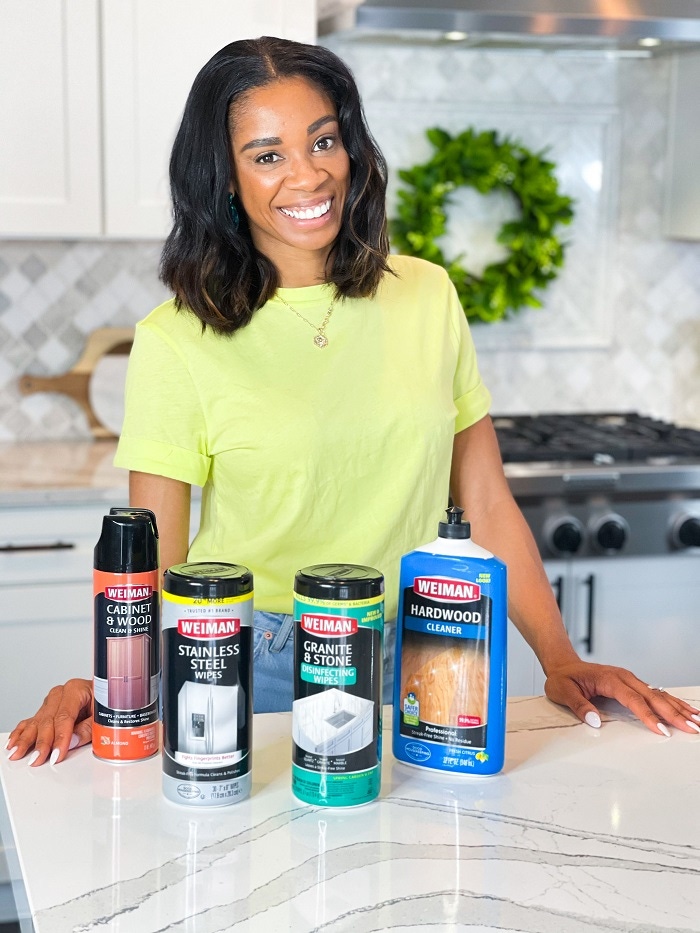 CABINETS
Kitchen cabinets are one of the first things you notice when you enter the kitchen. When the light hits a certain way, grease and sticky fingerprints can appear out of nowhere *yikes*. If you have any detail to your cabinet like Shaker style doors, this means extra grooves for dust and gunk to hide in. This is even more obvious when your kitchen cabinets are white or light colored. White or light-colored cabinets are not harder to maintain per se but may need a little extra love. For daily quick cleans and deep cleans, I love to use Weiman's Cabinet & Wood Clean & Shine. It literally smells like what almond dreams are made of (no sterile cleaning smell here) and leaves the cabinets sparkling like that grape jelly handprint never happened.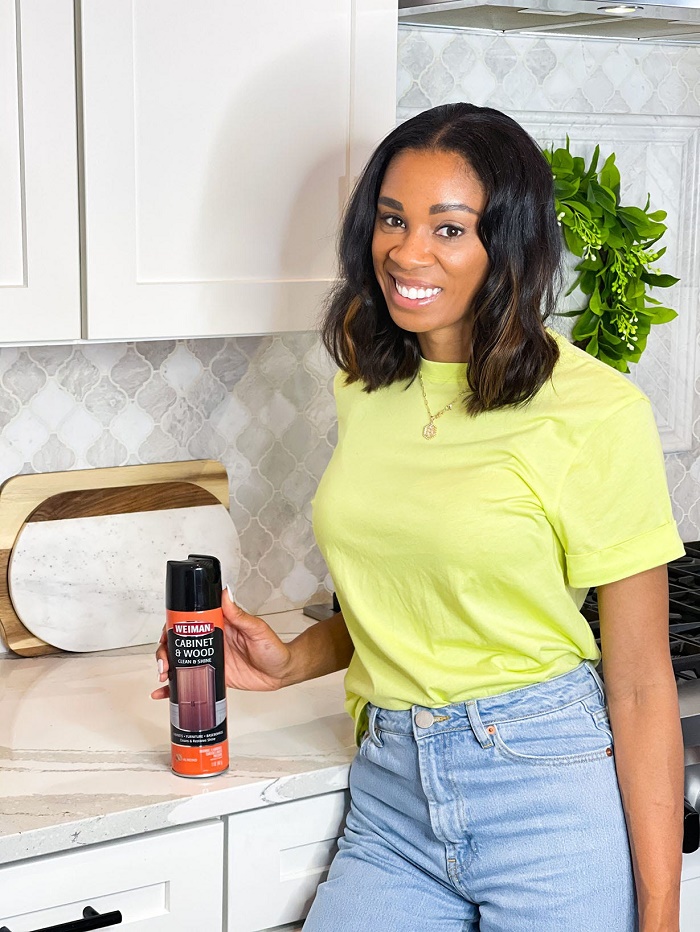 I spray my cabinets using my cabinet cleaner and a cloth. For quick cleans I just do the doors and drawer fronts. For deep cleans, I like to remove all the dishes and utensils and use my hand vacuum's brush attachment or a lint roller to grab those crumbs. During deep cleans, I will spray the cabinet cleaner on the inside of my cabinets too. It can be hard finding cleaners that won't affect finishes on cabinets, so this one is the real deal! If it's been a while (no judgement) and the grime persists, I'll let the cabinet cleaner sit on it for a while before wiping it off. Step back, admire your hard work (two claps) and let's go on to the next task.
APPLIANCES
After you clean your cabinets, appliances are next on the list! One of the biggest projects to tackle during your kitchen deep clean is the refrigerator. I know, I know, ugh. As a home to perishable foods, it's often prone to spills, leaks, and mysterious stains left behind from containers. For a serious clean, I'd recommend removing everything inside (yes everything) and giving the bins a good soak with dish soap and water. I'd recommend deep cleaning your fridge every two to four weeks or right before that grocery run. For stainless steel exteriors, I love to use my tried and true Weiman Stainless Steel Wipes. These wipes were the first Weiman product I tried and on the first use I seriously let out a wow, who knew appliances could look brand new again?!? I use these wipes on all my stainless steel appliances! I'm talking fridge, dishwasher outside, stove, even the toaster! The key is to buff with a microfiber cloth afterwards. Do not skip this step! It's the game changer for that brand-new kitchen look, trust me mkay. Do not forget the vent hood, it often collects all the grease and grime from cooking up top and then dust finds a happy home there, gross right?
COUNTERS AND BACKSPLASH

Counter tops oh counter tops. These are the most touched surface in your kitchen next to your cabinets and they always need some love. Whether it is a quick clean or a deep clean don't forget to grab your Weiman Disinfectant Granite & Stone Daily Clean & Shine. We want to be sure our counters are clean and germ-free. For a quick clean, we grab the Weiman Granite & Stone Disinfecting Wipes. When I'm feeling inspired or for those deep cleans & disinfecting, I make sure to grab the spray. I always take everything off the counter to get those nooks and crannies and allow my surfaces to stay wet so the disinfectant can actually has time to disinfect my surfaces. Whether you want to just clean or disinfect, check the label first to ensure it's okay for your surface. The Weiman Disinfectant Granite & Stone Spray and the Weiman Granite & Stone Disinfecting Wipes are fine for quartz and granite surfaces. I have a stone backsplash, so I also give my backsplash a wipe down frequently at the same time.
FLOORS

Now that you have knocked those crumbs onto the floor, j/k you guys wouldn't do that! There's one more spot to tackle: the kitchen floor. I know there are different flooring types but hardwood floors are common and since that's what I have let's dive in. Grab a broom, or if you are lazy like me (working smarter, not harder) grab that stick vac to get up any debris. Now that the floor is debris-free, grab your favorite quick mop and have fun just squirting the Weiman Hardwood Floor Cleaner directly onto the floor and get to scrubbing. I'm always shocked and a bit ashamed how much this cleaner gets up off my floors and how good they look after.
SINK

The last thing I like to do is empty the sink of dishes, whether this is wash by hand or throw in the dishwasher. The best feeling is giving the sink a good scrub with Weiman Stainless Steel Cookware & Sink Clean & Shine for that final touch & shine. Nothing feels more complete!
YAY you did it! Pat yourself on the back.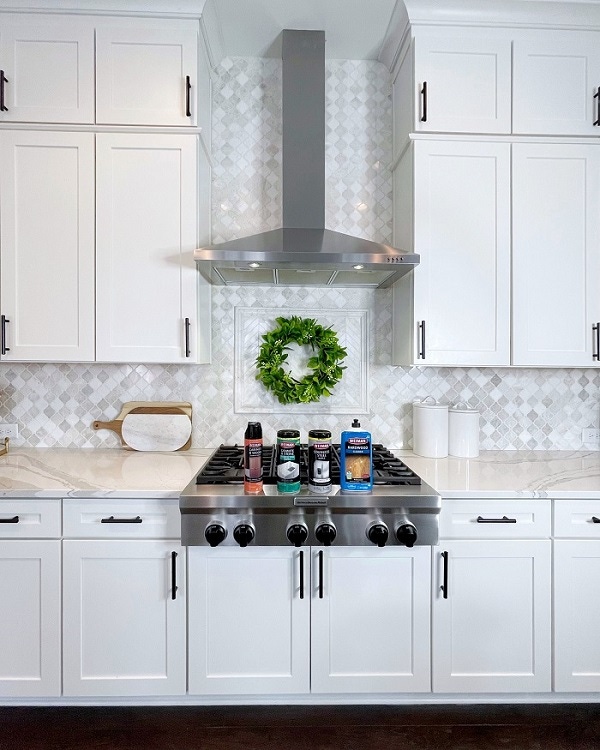 KITCHEN CHECKLIST
Now of course you didn't think I would leave you hanging and have to remember all of this right? Here's a quick checklist you can reference for your own deep-cleans.
Happy cleaning my friends.