Karen Snyder is the founder of Sanctuary Home Decor, where she chronicles everything from home decor, her family adventures, entertaining, and gardening tricks. For a daily dose of floral designs and family fun, follow her on Instagram at @sanctuaryhomedecor.
These warm summer days are the perfect time to gather with family and friends, but in today's uncertain world, there is a new normal around get togethers that many of us are finding hard to navigate. While summer entertaining has some unique and new challenges, one thing is clear, clean spaces create peace of mind and help to ease anxiety as we find ways to safely socialize. Dinner parties and large get togethers may not be reasonable at this time, but there are some fun ways to enjoy the company of friends and family in this season that are safe and simple!
Follow these 5 tips for easy and safe summer entertaining that will help you create meaningful memories with those you love!
1) START WITH A SPARKLING CLEAN KITCHEN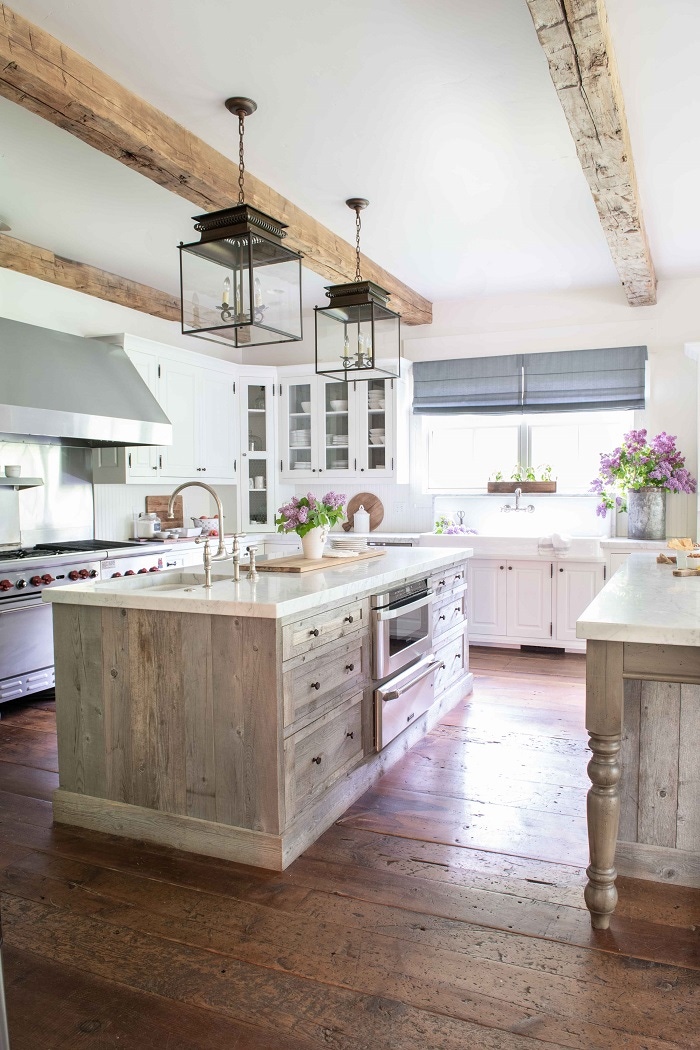 I have been cleaning and disinfecting more than ever to ensure the safety of my family and friends, and Weiman products have become my go to choice for sparkling clean rooms.
When it comes to entertaining my priority is making sure my marble countertops are clean for food prep which is why I was thrilled to discover Weiman Granite & Stone Daily Cleaner with Disinfectant. This is the first daily cleaner I have found that is safe for natural stone and also kills 99.9% of bacteria and viruses. Nothing is more important in today's world, so my entertaining routine always begins with disinfecting my kitchen countertops. In addition to making sure my countertops are clean, I wipe down all of my stainless steel surfaces with Weiman Stainless Steel Cleaner & Polish Spray. Our oversized range hood would never shine the way it does without this amazing product! It is super easy to apply using the Weiman Microfiber Cloth for Stainless Steel.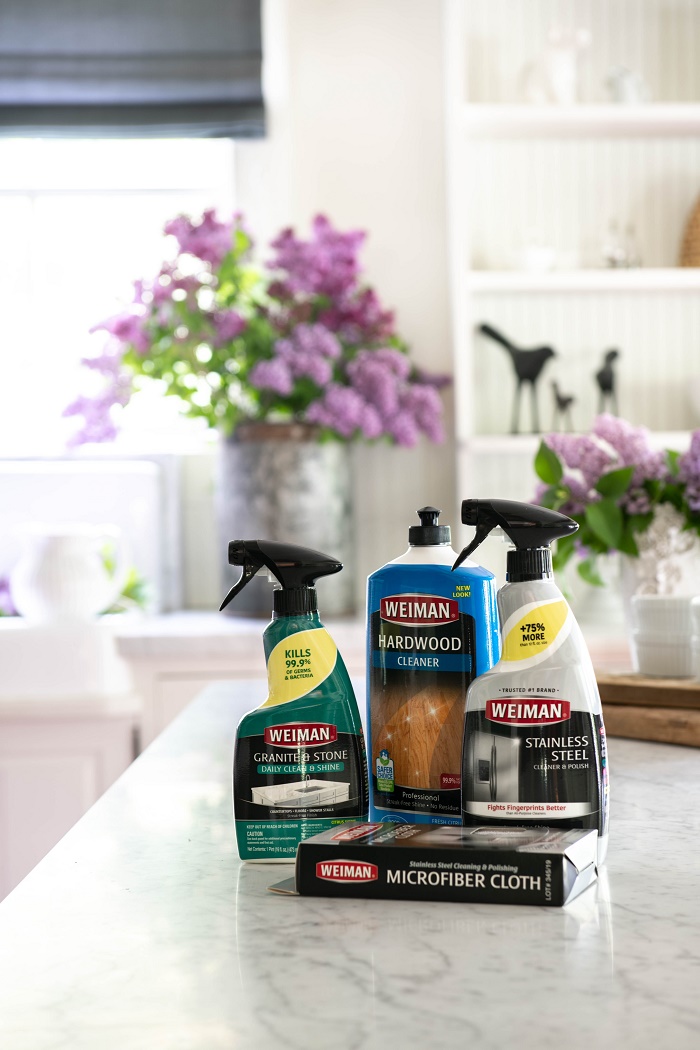 2) SET UP A SOCIALLY SAFE PLACE TO GATHER

In today's new normal, gathering in small spaces with many people can be unsafe, so the challenge is to make sure we get together in a way that is responsible and safe. One of the best ways to accomplish this, is to use outdoor spaces to safely gather and connect in meaningful ways. Using the guidelines for social distancing, I have been setting up socially safe "parties" on our outdoor porch. Intimate groupings of furniture that are spaced 6' apart make spending time with friends and family comfortable and beautiful! I don't hesitate to move furniture around or bring indoor pieces outside to create a pretty and safe gathering space.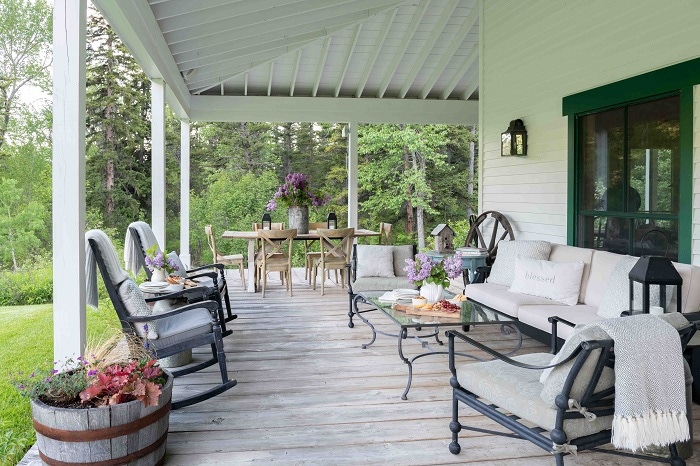 3) CREATE A "SERVE YOURSELF" DRINK STATION

Being a gracious host usually means offering guests a drink when they arrive, but in today's world that is not always a comfortable option. One alternative is to create a "serve yourself" drink station for friends and family. Having pre-made beverages in pitchers or bottles and cans, allows guests to get a beverage of their choice while maintaining a socially safe distance from others.
4) PREPARE INDIVIDUAL CHEESE BOARDS OR SNACK PLATES

In the same way that sitting together at a dinner table may not be reasonable right now, offering shared snacks may be unsafe and make guests uncomfortable. One easy solution is to make smaller, individual cheese boards or snack plates for safe nibbling while enjoying each other's company. I find that smaller bowls and boards make charming appetizers for friends and family to enjoy. Placing them on an easily accessible table in each guests "furniture grouping" makes them feel welcome and at ease.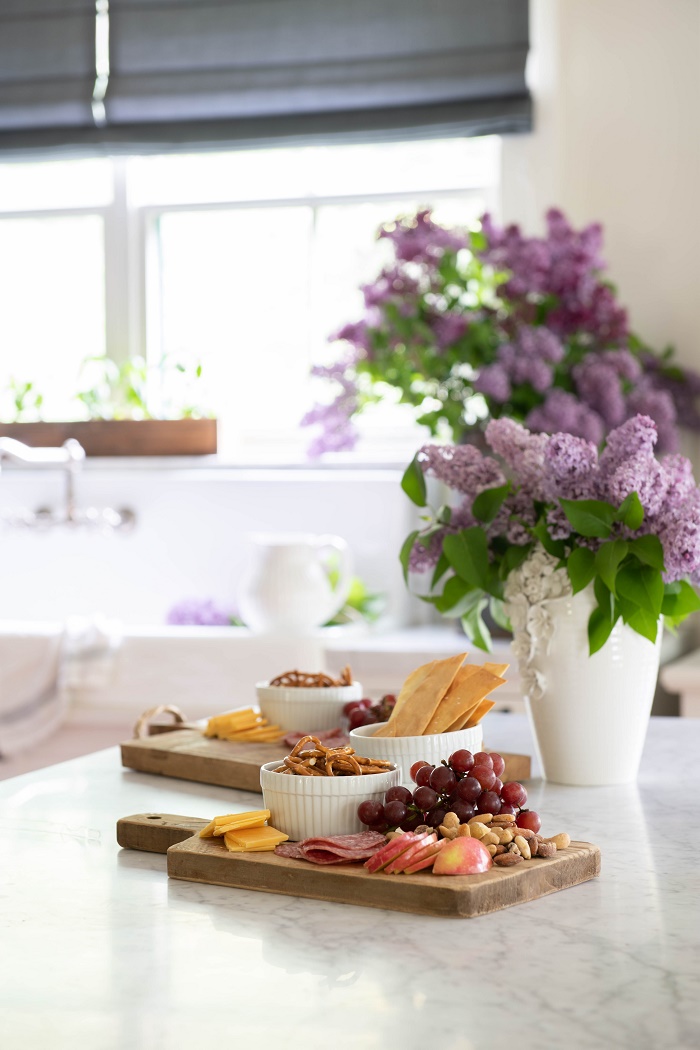 5) KEEP THE CLEAN-UP SIMPLE AND EASY WITH WEIMAN PRODUCTS
After entertaining friends and family, I don't want to spend a ton of time cleaning up, so I use Weiman products to make the clean-up simple and easy. Trips from our outdoor porch back into the house always track in dirt and debris, so I like to give my floors a quick mop when the party ends. This is easy to accomplish with Weiman Hardwood Floor Cleaner. It is so simple to use with a simple squirt and mop technique, smells fresh and clean and only takes minutes to get my floors in tip top shape!
An additional wipe down of the kitchen countertops with Weiman Granite & Stone Daily Cleaner with Disinfectant and my kitchen is sparkling clean and safe for my family to use.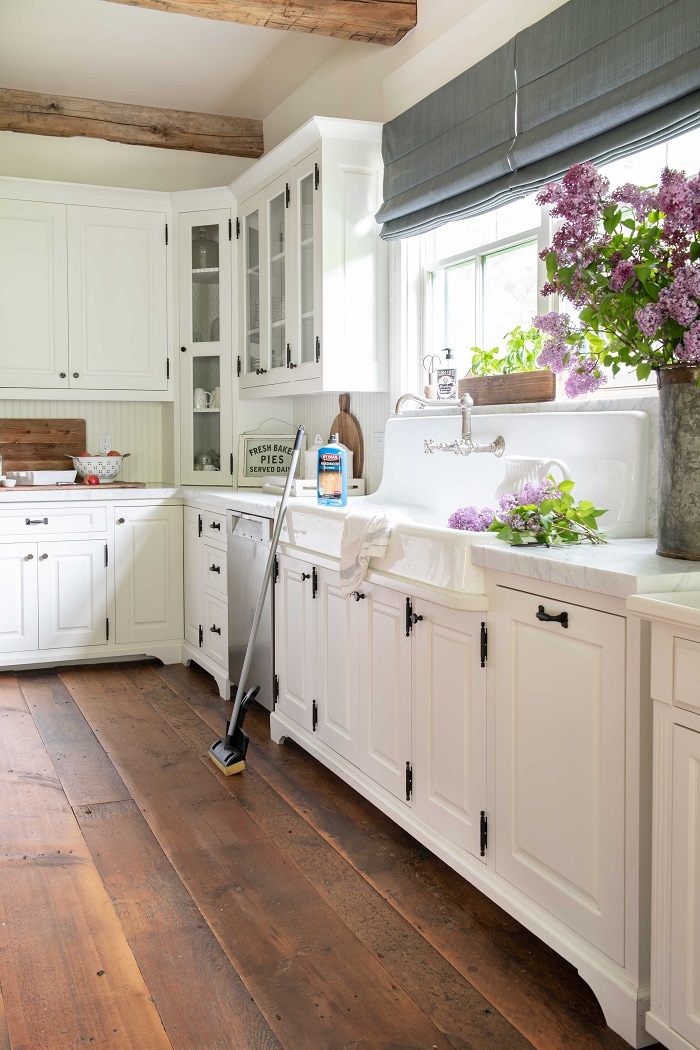 I hope these easy summer entertaining tips give you some ideas about how to navigate the new normal in gathering with friends and family this season. Now, more than ever, we need the support and companionship of those we love as well as the peace of mind that we can be together and remain safe and healthy!