ARTICLE POSTED BY ASHLEY ROSS OF @ASHWISDOM.
Ashley Ross is the founder of AshWisdom, a place for all things home décor. For daily adventures in motherhood, style, beauty, and home décor, follow her on Instagram at @AshWisdom.
There is just something so exciting about the start of a new school year. Shopping for school supplies, new teachers and seeing friends you haven't seen for so long. I remember as a kid loving the start of a new year, even if that meant the end of summer. Now as a parent, I see that same excitement in my children. But with back-to-school means back to homework, schedules, packing lunches and after school activities. Which means there is not a lot of time for cooking and cleaning. Not to mention, I don't want to spend what little time I do have on cooking/cleaning. I think the first thing my kids say when I pick them up from school is that they're hungry. And if I'm not prepared, they will grab something like chips or cookies out of the pantry. So, I always try and have a snack ready for them when they get home. And the easier the better! These fun and easy cheese and meat kabobs with fruit are so easy! You most likely have all the ingredients in your fridge already! These yummy meat, cheese and fruit kabobs are healthy, nutritious, and perfect to refuel your kid's bodies and minds after a long day of learning at school. Not to mention these make a great lunch idea too! These are so easy and quick to put together. I throw them together before I go to pick the girls up from school.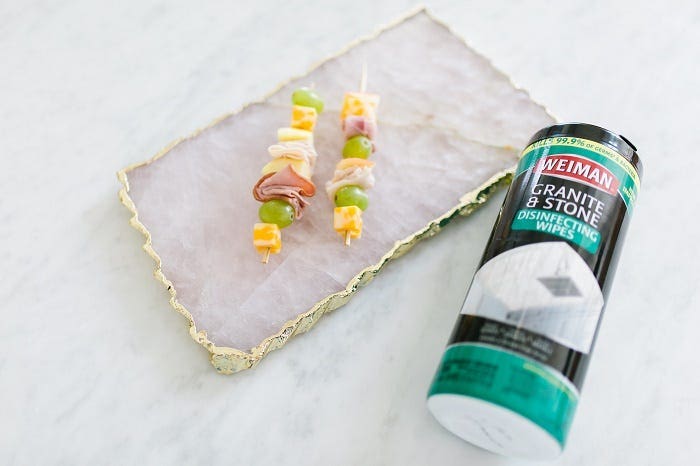 INGREDIENTS:
What makes this recipe so great is that anything can be swapped for what you already have at home or what your kids' preferences are. But this is what I used.
Deli meat – I used a mix of both smoked turkey and honey ham.
Cheese cubes – I used Colby Jack cheese
Apple chunks
Green grapes
Kabob sticks
Here are some other combinations that would pair great with the delicious turkey and ham.
Fresh pineapple
Melon – cantaloupe, honeydew, or watermelon
Mangoes
Peaches
Strawberries
Pears
Mozzarella cheese
Pepper jack cheese
White or sharp cheddar
Pepperoni or salami\
Baby dill pickles
Feel free to use fruits that are currently in season and of course ones that your kids especially enjoy.
HERE ARE THE EASY STEPS:
Simply take out a couple of slices of both the turkey and ham. With a sharp knife, slice the meat into 1" strips. You then fold the meat strips "accordion" style and begin skewering them onto the kabob sticks. Tip: I cut my kabob sticks in half first. This makes them easier to fit into lunch boxes, etc.
Cut the apple into small chunks.
Simply alternate the meats with the fruits and cheese cubes onto the wooden skewers. These come together quickly and easily. My girls also love to help make these if I don't have time to get them put together before school pick up.
Not only are these kabobs nutritious, but they're also fun! It's a great alternative to your basic chips or cookies. Not to mention a great way to get your kid excited about eating healthy.
Next is cleanup! With Weiman Granite & Stone Disinfecting Wipes, Weiman Cook Top & Microwave Dual Action Wipes, and Weiman On-The-Go Disinfectant Electronic Wipes it makes clean-up a breeze.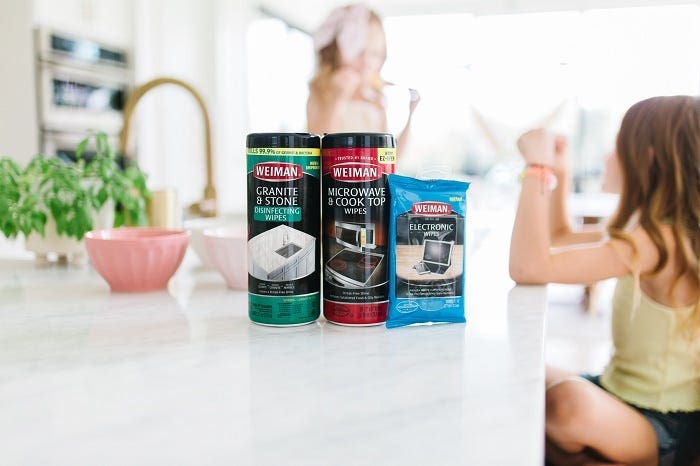 The Weiman Granite & Stone Disinfecting Wipes are a favorite. I use them multiple times a day. After putting together all those lunches and after-school-snacks this makes cleaning so quick and easy. Did I mention they kill 99.9% of germs and bacteria? With back-to-school, we will need all the help we can get in that department. I love that they are quick and convenient to just grab when I see a mess, which is often. LOL! They clean up tough messes while leaving a streak free shine. Pro tip – they work great in the sink too!
The Weiman Cook Top & Microwave Dual Action Wipes are another favorite. I don't know how many times I've had to tell a member of my family to cover the food they put in the microwave. So, to say the least, there is always a messy surprise when I go to open it. These wipes are great for quick, convenient clean-ups inside the microwave as well as on glass cooktop surfaces. There is even a scrubby side that helps to lift away splattered food, grease, and grime. The smooth side polishes to a streak-free shine without scratching.
Lastly, the Weiman Electronic Wipes are so great for so many things. I use them to clean off my tablet when I'm following new recipes in the kitchen. I also use it to clean off my cell phone as well as my daughter's tablet she brings home from school every day because they kill 99.9% of germs and bacteria including common household bacteria and viruses like Coronavirus that causes Covid-19.